Clip Reel: Kerry Collins
A brief history of the well-traveled QB.
by Ted Bauer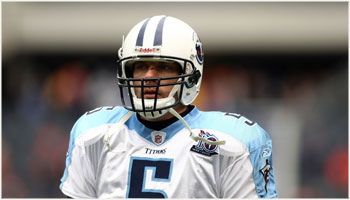 Getty Images
Pop quiz, hot shot: what's the biggest storyline in the NFL this season? Some contenders: Tom Brady's injury reshuffling the landscape (no question); Matt Ryan's development with the Falcons (valid); how quickly the Miami Dolphins have turned the corner (legit); how legitimately good the New York Giants are (of course) and perhaps our favorite, the undefeated Tennessee Titans. They're led NOT by two-time Rose Bowl superman Vince Young, but rather journeyman Kerry Collins, who was playing in bowl games when VY was in elementary school. Amazing stuff in Nashville. Let's take a brief look at the history of Collins.
His Wiki.
NFL.Com page.
Titans profile.
Pro Football Reference.
How weird is it that him and Warner are both blowing up at the same time?
Oooh, an "unofficial fan site."
Awesome: Collins video from PSU.
"How Kerry Collins copes with pain."
Collins' United Way ad.
A Collins song parody.
Speaking of, here's "The Ballad of Kerry Collins."
Collins leads a PSU drive against Illinois in 1994.
Clips from the '93 OSU vs. PSU game.
Couple of Week 10 Titans vs. Bears highlights.
AP video summary of the Titans beating the Ravens earlier this season to go 5-0.
More on Collins as a country music songwriter.
Ah, when The New York Post gets on Collins, you know he's doing something right this season.
This guy appears to be a dissenting voice on the greatness of Collins.
Nashville is talking!
KC for MVP? Wow.