The NEXT: Big Four-Sport City
This could make for interesting dinner debate.
by Ted Bauer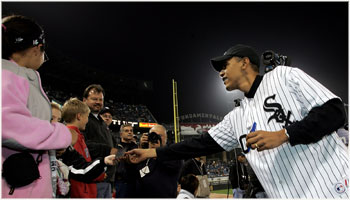 Getty Images
We're pretty sold on Tampa Bay as a future sports hub. Although we're sad former ESPN analyst Barry Melrose got axed as head of the Lightning, we'd bet the farm that the Rays win a World Series before 2012. Our view on the Bucs: University of Tennessee gives Jon Gruden huge money just to land a big name, he spurns them and a much-better-than-you-really-think-they-are Tampa team wins the NFC in the next three years. (OK, maybe they need a new quarterback.) Here's the problem: Tampa's only a three-sport town (no hoops). So, as for four-sport: we're probably shooting fish in a barrel here, but we're taking Chicago. Logic is easy. The Cubs are going to win a World Series before Lou leaves, the White Sox are totally blessed by the election of Barack, the Bulls are young and have D-Rose, the Blackhawks are legitimately young and scary and the Bears, well, Lindsay Lohan is on board at least. Seriously, though: Chicago over Philly because we're not completely sold on the 76ers and over LA because we know next to nothing about the Kings and that can't be a good thing.