Clip Reel: The Rodeo
Bulls and cowboys are awesome, and we're not talking Jordan and Aikman.
by Ted Bauer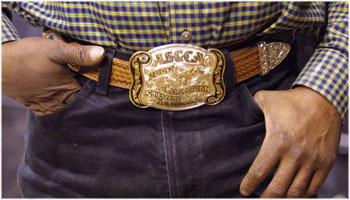 Getty Images
In the current issue of ESPN The Magazine, we have a piece on the National Finals Rodeo constructed in the "One Story, Five Ways To Tell It" format. (Go here for it.) Rodeos are pretty awesome spectacles, honestly. It's completely awkward to watch a grown man ride a bucking bronco, then listen to Martina McBride sing "Concrete Angel" and somehow enjoy both. After reading the above feature, we wanted to learn more about the rodeo—specifically, the National Finals Rodeo—and watch some online videos about it. We thought we'd extend the results of our search to you. Enjoy.
Good place to start: they made a documentary about the National Finals Rodeo, and here is the trailer for it.
Apparently at the 2007 NFR, there was score tampering. Also, the guy voicing this over kinda sounds like Jimmy Kimmel.
Some highlights from the Australia NFR in 2007. Australia!
Hmmm, HS rodeo finals.
Zeb Lanham at NFR 2006.
Intense: "Rodeo reporters are Judas journalists." Ha, what?
Brooks and Dunn playing at the 2008 NFR.
Bull riding your thing? Here are bull-riding clips from the 2007 NFR.
Oooh, nice. A profile of the NFR doctors.
Classic rodeo clips video #1.
Classic rodeo clips video #2.
Classic rodeo cartoon. Heh.
2-minute rodeo montage.
For the peanut gallery: a mix of people falling at rodeos.
Similar clip, although this one is called "Rodeo Bloopers."
"The Rodeo Song."
"The Rodeo Song (w/Calvin and Hobbes)"
Jack Johnson doing "Rodeo Clowns."
ProRodeo.Com!
Good overall resource on National Finals Rodeo.