Auction Block: Going Public
A collector opens his stunning collection to the masses.
by Eric Angevine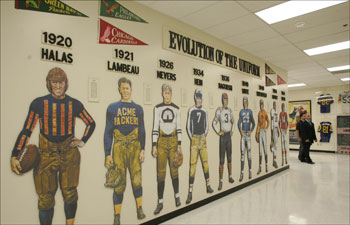 Jon SooHoo - Sports Museum of Los Angeles
A gallery of the progression of football uniforms.
When it comes to collecting, millionaires have a distinct advantage over the rest of us. Historical memorabilia that isn't directly donated to a non-profit hall of fame often ends up in private hands, seen only by friends and family of the purchaser.
Bronx native Gary Cypres has never been stingy with his own collection, which includes artifacts from baseball and football to tennis and rowing. Now a resident of Los Angeles, the successful businessman has displayed his prized possessions in a 32,000 square foot building near the Staples Center for years, giving private tours to friends, business associates, and charity groups all the while.
On Friday, November 28th, the Sports Museum of Los Angeles officially opens its doors to the general public for the first time. We spoke to Mr. Cypres about his decision to turn his private collection into a public museum.
---
ESPN the Mag: What was the first piece of memorabilia you collected?
Cypres: If we go back to childhood, it would be baseball cards. At that time, when I was growing up, there was really no market. It was more of a hobby in the 1950s. There was no scarcity, really. I had a lot of Mantle rookie cards that I don't have anymore, because, like a lot of other people, when I left home, my mother decided it was "clean up time", and out went all the cards.
Mag: You have a copy of the T-206 Honus Wagner card. Is that your favorite, or just the one most people want to see?
It's not really my favorite thing. I understand why people are enamored of it; it has to do with price. There are certainly more beautiful cards that were produced during that era, but because of all the notoriety, people want to see what kind of card can command so much money.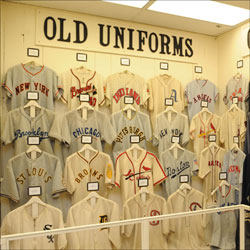 Jon SooHoo - Sports Museum of Los Angeles
A gallery of classic jerseys.
Mag: What made you decide to collect some artifacts from outside of the four major spectator sports?
When I started collecting, I happened to be in Europe. I looked in a London shop window, and I saw some old golf clubs and some weird-looking rackets that looked like they had been warped. But they were beautifully done, so I walked in and began a dialogue with the owner, who was a master collector. He became sort of a mentor to me, teaching me about the beauty of the old hand-made golf clubs. I began to understand the evolution of the club and the ball—the feathery ball was stuffed with feathers, for instance—and went from there into balls that were stuffed with Indonesian rubber, and the clubs changed to better withstand the impact.
So I began, in my formative years, with golf and tennis. Then I worked my way back to my first love, which was baseball.
Mag: Which piece of sporting equipment has changed the most over the years?
Oh, the glove, probably. In baseball you go back to the first gloves, which were fingerless. They were designed for the way the game was played at the time, when it was basically an infield game. The longball hadn't been invented yet. So the first gloves were basically meant to knock the ball down rather than catch it—there was no pocket. They really looked like workmen's gloves. The change they went through after that was so, so radical.
Mag: We marvel at those old things, but you still collect memorabilia from modern athletes, correct?
Oh, yeah. I have Bonds' #755 ball, so that tells you about that.
Mag: Your collection covers a lot of ground. When it came time to organize it all into museum displays, did you face any unique problems?
Yeah, it's a big building! The first displays were about evolution. Like the changes in football. The first helmet, the first shoulder pads, the first footballs, the first uniforms. I tried to show that in each of the three major sports that I collect: basketball, baseball and football. So it was easy to mentally start with the evolution of those things.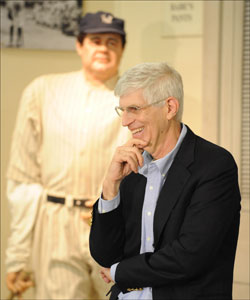 Getty Images
Gary Cypres in front of a wax Babe Ruth.
Then when I got to individual teams, I just went back to my boyhood. I grew up in the Bronx, so I had to have the Yankees: Gehrig, Mantle, all those guys. So I began to collect iconic stuff from Yankee stadium. Then I got into the impact of the trade of Ruth from Boston, and all that brought. Ruth rescued baseball from the early scandals and brought the sport into the modern era.…And in '55 when the Dodgers won—the Boys of Summer—well I had to collect some Dodgers. When they moved from the east coast all the way out west, that opened things up. I'm still just a few blocks from Dodger Stadium here.
Mag: What do you have for basketball fans?
I have a lot of the original basketball goals, from about the 1920's on. I have the same peach basket reproduction that the Basketball Hall of Fame has. They showed me how to do it! I have old leather nets, which are very hard to find.
Mag: How do you find something like that?
You just wait. Eventually, somebody puts an auction lot up and you see they have old basketball hoops, and you have to go look and see if it's something you want. And sometimes you get something great like a leather net. I remember when we were kids, we played with metal nets, and I was able to secure some of those, along with some really old rims.
Mag: For a long time your collection was viewed by invitation only. What made you decide it was time to open up to the public?
When the museum was private, I opened it up to charity groups. It gives me a high degree of pleasure to do that. As people came through, they told me it was a shame that so few people got to see it, and I should open it up to the public.
So basically, I've decided to see if everyone wants to see it. If they do, great! If not, I'll go back to the way it was. Either way, I'm happy. It really appeals to the kid in me, and I think everyone has a kid in them.
---
The Sports Museum of Los Angeles is located at 1900 S. Main Street in Los Angeles. It is open from 10am to 6pm, Wednesday through Saturday each week..
Got a great collecting story? Let us know at collectespn@gmail.com