The NEXT: AFC Playoffs
Well, it's not going to be Colts vs. Patriots, we'll tell ya that.
by Ted Bauer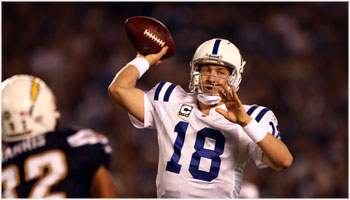 Getty Images
For the last few years, the AFC playoffs have always been about "Patriots" and "Colts" and "At what level of said playoffs will those two teams meet?" This year is decidely different. While the Colts are decidely hot (should more people be discussing the fact that they've won five in a row?), here's how we see the AFC breaking down with a month left: the Titans will grab the No. 1 seed, followed by the Steelers at No. 2 (sidebar worth discussing: every Steelers fan we know always seems convinced the season is one play from completely imploding, even though they look good almost every week). The Jets next three games are 49ers, Bills and Seahawks, so they should win the AFC East and grab the No. 3 seed; that puts the Denver Broncos at No. 4 (haha!) That leaves three teams for two wild card spots: Colts, Patriots (together again!) and Ravens. The Ravens have the toughest schedule of those three, and the Pats play Seahawks, Raiders, Cardinals and Bills; we'll take them No. 5 and Indy No. 6. That sets up Manning vs. Favre at the Meadowlands (that's a Nantz/Simms game if we've ever heard one) and Shanahan/Belichick in Denver. We like the Pats in the latter because Denver's defense is suspect and have no idea how to pick the former. We'll say Jets at home. This would give us Pats vs. Titans—a game that seems a lot like Chargers vs. Pats two years ago—and Jets vs. Steelers. Hmm, if we're right (doubtful!) the AFC playoffs are going to be awesome.