Clip Reel: Alabama vs. Florida
Time to start getting ready for the SEC Title Game.
by Ted Bauer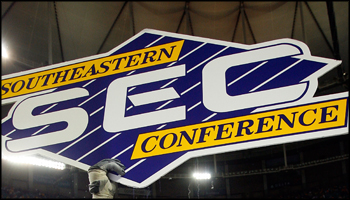 Getty Images
The SEC Championship game this Saturday between Alabama and Florida (4pm, CBS) is still almost a full week away, but frankly, you should be excited. The central question: will it be an absolutely epic game, or is Florida way too hot right now to be contained? The secondary question: will Terry Saban see her husband at all this week? A third, almost utterly meaningless question: should Florida be worried about Urban Meyer heading to Notre Dame, which he once called his "dream job?" We wanted to look briefly at the history of 'Bama vs. Florida. Please be aware this is less about the 2008 editions of these teams and more about the past, but we snuck a few tribute videos in there.
"Rammer Jammer" from the end of the 2005 game.
"Crimson Tradition."
"The ultimate Alabama Football highlights" clip has a few Florida games over the years on there.
Here's one of those "get hyped for the 2008 game" videos we promised you.
1999: "The Neutral Zone Infraction."
Clips from the 1999 SEC Championship Game.
This "Star Wars" hype video is pretty filthy.
But wait—maybe we do have a playoff!
Here's someone who thinks 'Bama is winning it.
Here's a reason why that might be right.
Still, though…
1999 again: sweet "Victory in the Swamp" video. Game was thrilling.