First Person: Being a Davidson Fan
It's a lot different now than it was, say, two years ago.
by Anna K. Clemmons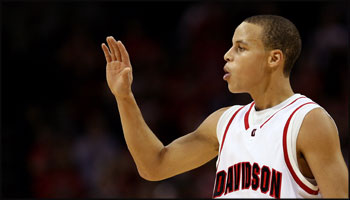 Getty Images
Anna Clemmons is a reporter for ESPN The Magazine and a contributor to ESPN.Com. She also attended Davidson.
So our big secret isn't a secret anymore.
Last year, I wrote this about the Davidson Wildcats during their improbable March Madness run. As a Davidson alumna, I'd spent most of the season gushing about my small, liberal arts school's hoops team to anyone who'd listen. That excitement had usually fallen on disinterested ears.
But then the NCAA tournament began, and Jason Richards couldn't stop dishing to Stephen Curry, who couldn't stop shooting. Basketball nation jumped onto the Wildcat bandwagon. ESPN, Sports Illustrated, USA Today, Sporting News, The New York Times—you couldn't pick up a sports publication and not read about 'America's favorite Cinderella.' Even NBA superstar LeBron James traveled to Detroit to watch the Davidson show. We count him among fans: Bron Bron cheered the Wildcats again this past weekend in Charlotte as they battled (and beat) NC State.
Newspapers and magazines tracked Curry's every move in the off-season as he traveled to the ESPYs (nominated for 'breakthrough performance') and around the country for summer hoops camps. By October's announcement of the pre-season rankings, everyone knew about Davidson. The element of surprise was gone.
Some alumni were befuddled—what to do with this 'reputation?' We'd moved from 'The Little Engine That Could' to a team led by a superstar so talented that some coaches chose to double-and-triple team him even if it meant sacrificing victory (see Davidson's Nov. 25th 30-point win against Loyola-Maryland, where Curry was held scoreless). But most alum were overjoyed, both at the potential for this team (many years in the making, thanks to the recruiting and coaching talents of head coach Bob McKillop) as well as the likelihood that when saying they attended 'Davidson,' others might actually know where that is.
Curry is already being touted as a top draft pick of 2009. There's a Curry Fan Facebook page with over 14,000 members and he counts King James among friends that he texts with regularly. Even his younger brother, Seth, a freshman baller at Liberty—and the team's leading scorer—is starting to feel the media love. McKillop's recruiting trips are likely much easier and playing games against elite programs like UNC and Duke will be considered competition rather than a 34-point blowout (see Duke vs. Davidson circa 2003).
Do we miss flying under the radar, even a little bit? Perhaps. But we're excited to see how the 'Cats fare this season. They've proven that they can win without Curry's scoring prowess but still appreciate his amazing performances (44 of Davidson's 72 points against NC State). Tuesday's battle with 6-1 West Virginia may be another down-to-the-wire match-up. And for the 20-year-old who has 'I Can Do All Things' written on the side of his shoes, this may be the season where that statement becomes an inarguable truth. He's ready. His team is ready. Wildcat nation is certainly ready. The collective basketball world, it seems, is waiting with anticipation.
After all, once a secret is out, you might as well spread it around, right?