Clip Reel: Eli Manning at Ole Miss
He might have come into his professional own of late, but he was a heckuva Reb.
by Ted Bauer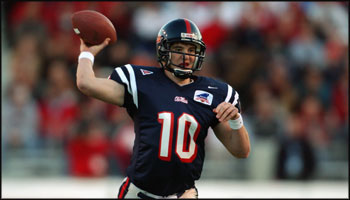 Getty Images
A few years ago, we were driving from Houston to the Northeast with our (then) girlfriend. We're crossing tree-spotted Mississippi and see a sign for Oxford, at which point we call our girlfriend in the car in front of us and say, "Gonna be a while." Absolutely had to see "The Grove," even if it wasn't college football season at the time. Here's the deal: when that happened, Eli Manning was already a member of the New York Giants and within 30-something months, he'd have as many Super Bowl rings as his (more famous?) bro. It all started for Eli as a Reb, though. Since Mississippi was made the 20th state today back in 1817, with no disrespect to Mississippi State we present a look at Eli in Oxford.
Ole Miss vs. Florida in 2002.
A nine-minute "Ole Miss tribute to Eli" video.
Eli Manning and Patrick Willis interview at Ole Miss (Part 1.)
Here's Part 2.
And Part 3.
Ole Miss vs. LSU in 2003.
Ole Miss in the 2004 Cotton Bowl.
Eli speaking at the College Football Hall of Fame.
Nice Eli mix set to Foo Fighters, of all things.
Had to throw this in here: "The Grove Song."
Manning last-minute TD to beat 'Bama in 2001.
No idea what the heck this is.
A rip of tremendous plays by the Ole Miss Rebels.
Eli vs. Arkansas in 2003.
Auburn vs. Ole Miss in 2003.
"From Dixie with Love."
Buy this.
Nice archived ESPN.Com article on Eli at Ole Miss.
Legitimately good article on Eli's function at Ole Miss with Cutcliffe.
Buy this too.