Dear Flem: Misery is life as a Vikings Fan
by David Fleming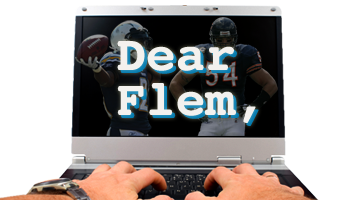 In the crazy, topsy-turvy world of the NFL, sometimes fans just need someone to talk to. So once a week Mag senior writer David Fleming will exchange emails with one lucky (we think) reader. If you'd like to have an email exchange with Flem, click here and pour your pigskin heart out. Go ahead, Flem's listening. And be sure to check out the weekly Flem File on Page 2 tomorrow and every Wednesday.
Dear Flem:
You can imagine how disgusted I was to find that you traded emails with a "suffering" Bears fan. Ummm, didn't they just compete in a Super Bowl a few years ago? Needless to say, Viking Nation is outraged that a Bears fan (someone who actually has a pro football championship) gets "face time" over the poor suffering Vikings fans. What gives, Flem?

— Andrew Sloss, a lawyer living in New York
FLEM: Well, your boys are 8-5 now and in the driver's seat for the NFC North title and the playoffs. I'm not exactly sure what there is to complain about.
ANDREW: Being in the "driver's seat" as a Viking fan is like being in the back seat of a runaway Ford Pinto. At any moment, it might catch fire and explode, and yet there is no easy way out. I don't think you realize what you have asked of me. I will have something to you by Thursday probably.
FLEM: Thursday? You're way, way over-thinking this.
ANDREW: A Viking's fan over thinking things? Of course!! That is just how we choose to live. Whenever we are "expected" to win a game, the wheels tend to come off. "Being in the driver's seat" may be the scariest words ever uttered to a Vikings fan (not including Herschel Walker, Love Boat, "wide left", Fred Smoot, Morten Anderson, Darrell Green, Mike Lynn, Les Steckel or Vikings draft strategy.) The purple were in the driver's seat last year and got blown out by the Redskins on national television (at home, mind you). Even then, we still had a chance if we could have just beat the Broncos in Denver. Yeah, well we know how that ended up. The Redskins made the playoffs and the Vikings did not.
In 2003, all we had to do was beat the lowly Arizona Cardinals (who finished 4-12) to make the playoffs. Did we stomp the poor Cardinals into the Arizona turf? Nope. Somehow we managed to lose on the last play off the game. We started that season 6-0, and, until the last play of the game, had been in first place in the division the whole season. I think we tied a record for only the second team to start 6-0 and miss the playoffs. Need I remind you of 2000? 1998? 1987?
FLEM: Now I'm starting to understand the 'I'll get it to you by Next Thursday' comment.
ANDREW: Well, in honor of my first year on earth, the Vikings got blown out by the Oakland Raiders in the Super Bowl (32-14) on January 9, 1977. I don't recall having watched the game, of course, but like many Viking fans, I am sure I cried that day. My first official memory of the Vikes was their last game at Metropolitan Stadium (which they lost). I remember watching the crowd rush the field and tear down the goal posts. Even as a five year old, I did not understand why everyone was so excited about playing in a dome. I still don't.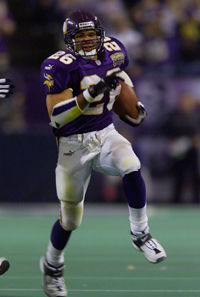 Getty Images
Robert Smith's early retirement is just one of the reasons why it's tough to be a Vikings fan.
FLEM: Hey, I know your pain. I had an awesome, full-length purple Vikes winter coat as a kid, but I threw it out after all those Super Bowl losses. Oh, and one time, while doing a feature in Minneapolis on Robert Smith—Me: "Is there really enough in this game to keep your interest, or do you see yourself as someone who would just walk away one day without fan fare?" Smith: "Next question."—I froze all of my nose hairs walking 75 feet in -20 degree weather on my way to a Bagel shop.
ANDREW: Other misery I (and others) have endured in the last 32 years: Watching our HOF coach Bud Grant come out of retirement for one season, only to go 7-9; Mike Tice; D.J. Dozier; the 1988 NFC Championship Game; the1998 NFC Championship Game (I attended this game and am still in recovery); "41-doughnut," a loss so embarrassing Robert Smith decided to retire early; the Randy Moss Trade; the 1995 Playoffs; Drafting Darrin Nelson ahead of Marcus Allen in '82; Drafting Derrick Alexander and passing on Warren Sapp in '95; Drafting Duane Clemons and passing on Marvin Harrison and Ray Lewis in '96; Drafting Troy Williamson No. 7 overall in 2005.

FLEM: I guess that beats my purple coat and my nose hairs.
ANDREW: That's just a small sampling off the top of my head. I am sure I am missing other items.
FLEM: I can see why you're afraid of getting your hopes up with this team. But just like I tell my buddy Arist in Cincy, another die-hard Vikes fan, I've always liked Brad Childress.
ANDREW: As for our Brad "Chilly" Childress, I think the jury is still out on him to be honest. It seems like he might finally be starting to "get it" as a head coach. Earlier this year, I really wanted him to be fired because he has a history of making bone-headed play calls and seemed to get out-coached every week.
FLEM: I disagree. Childress is very bright. He's got an off-the-charts football mind. Down to earth. Funny. No B.S. I spent a week following him around his first Vikes camp. His dorm room smelled like mildew and the only thing on the wall was a fly swatter. He said, "Welcome to the big time!" Plus, the 'stache plays.
ANDREW: I have noticed a change over the last 7-8 weeks, and he actually seems to be figuring out some things as a head coach. I hope for our sake this continues. I agree his 'stache is awesome. He rocks that thing hardcore every week. Easily the best one in the league among head coaches (beating out Andy Reid and Mike Holmgren).

FLEM: Jeff Fisher could give him a run for his money.
ANDREW: Childress is a dead on match for Gerald McRaney of Major Dad and that one detective from the show Monk. However, what I think is even more hilarious is that when he gets mad along the sidelines his WHOLE head turns deep red (seriously, check it out), even the top of his bald head! When he gets agitated, he reminds me of one of the Muppets on The Muppet Show.
FLEM: A Muppet Show reference? Normally my work here would be done. But I wanted to get a lawyer's opinion on the whole StarCaps controversy with the Vikes and, also break the Dear Flem record for word count. If editors try to cut this down, you and I will sue 'em!
ANDREW: I think the NFL definitely owes a duty to its players to keep them safe (including warning them) from drugs and/or supplements that can hurt or even kill them. This is an especially sore subject in Minnesota because of Korey Stringer's death several years ago. The NFL cannot claim to ban steroids and related supplements for the health of the players and then get away with not warning players or the union when something contains not only harmful chemicals, but something that may trip them up at a drug testing.
FLEM: If the league knew this drug was in the product, but didn't warn the players, that supercedes the fact that the policy was collectively bargained and that the players are ultimately responsible for what goes in their bodies.
ANDREW: If I recall correctly, the legal documents suggested that perhaps the NFL didn't tell players about StarCaps because they were hoping they could crack down on anyone using it. This would allow the league to claim they are "getting tough" on steroids and keep them out of hot water with Congress and fans. There is probably some merit to that claim, but there would be no way to prove that, unless someone internally blew the whistle. The NFL could have easily discharged its duty to the players by issuing a basic memo to the NFLPA. This would have put the burden on the NFLPA to notify players. The fact the NFL failed to do this seems unusual to me.

FLEM: So, if the Williams Wonder Wall comes down, is that it for your Vikes? I keep thinking of the Jags losing all those offensive lineman in Week 1, and when they couldn't run the ball, they lost their personality and their swagger, and never got it back.
ANDREW: If Kevin and Pat eventually get suspended, I think it will kill the Vikings. I don't even want to watch what would happen if they were suspended. The Vikes might still make the playoffs without them, but would probably be one and done. Right now, offenses have a hard time keeping up with Jared Allen, Pat and Kevin. They cannot double-team all three, and it usually leaves at least one available to get pressure on the QB or to have a chance to get a RB in the backfield. Without them, the Vikes will have a hard time getting pressure on the QB consistently. This most likely would result in an offense having much better luck passing the ball on us. Despite our improvement all around on D this year, our secondary is still suspect when a QB has time to throw the ball.
FLEM: Awesome. You can't see me, but I'm reacting like James Carville in Old School after Will Ferrell's opening statement in the debate.
So, as an attorney, do you have a favorite part of the whole legal mess so far?
ANDREW: This statement: "… the NFL … has threatened … the general enjoyment of Vikings' fans throughout this region and the country." Enjoyment? Let's hope so!!