Love the Hate ... While it Lasts
Hansbrough? Please. Nobody had it worse than J.J. Redick.
by Chris Sprow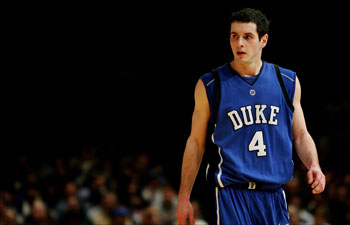 Getty Images
Someone once cussed out Redick … during the national anthem.
Tyler Hansbrough thinks he has it bad? Please. When it comes to inspiring insults from opposing fans, Hansbrough is a mere grasshopper to the master that was J.J. Redick.

Most hated ACC player of all time?

"Redick, (and it's) not even close," says J.P. Giglio, who's covered the ACC for a decade at the Raleigh News & Observer. "Fans don't like Hansbrough, but he's benign in the sense that he has no public personality and shows no outward emotion on the court. Redick would hit a three and hold his hand up and let everyone in the building know you couldn't stop him, no matter how much you hated him."
But he couldn't stop the heckling.

"The ultimate heckling was Maryland in Redick's senior year, the 'F--- you, J.J.' chant was surreal," says Giglio. "That same season, a fan at Wake Forest told Redick to go 'F--- yourself' during the national anthem."

A few years ago, Redick and Adam Morrison had a season for the ages, going back and forth with each other for the national scoring lead (both averaged over 28 ppg), but also with fans, as the subjects of taunts either hysterical or cruel depending on what colors you were wearing.

"We were these two white guys, both with maybe a little chip on our shoulder, leading the country in scoring," says Morrison. "On the road, yeah, it could get a little vicious. But they don't taunt you when you're sitting on the bench."

Redick didn't want to discuss his senior season this week, but at the time, many felt that race was also part of the equation. Both Morrison and a couple writers we spoke with called it the "if he can do it, I can do it" effect among mostly white college hoops fans. It made the pair easy targets; mere mortals with superstar numbers.

That phenomenon comes into play with Hansbrough, the current target.

"(It's) exacerbated with Hansbrough because he scores so many of his points on the free-throw line. You can watch a whole game and he doesn't do anything of note, then you look at the box score and he's got 20 points and 10 boards," says Giglio. "I remember on press row of the NCAA game in Charlotte last March, Tennessee was scouting the UNC-Washington State Sweet 16 game, and after Hansbrough awkwardly threw up a post shot, one of the assistant coaches said, 'That's the national player of the year?'"

Not that the famed ACC taunting is only granted to the reigning player of the year.

There were the t-shirts that greeted former UNC coach Matt Doherty at Cameron, with five other coaches names crossed off, signaling Doherty as the sixth choice of the Heels. There was the cheeseburger hanging from a fishing line that once greeted Sean May. Google "Steve Kerr, PLO" sometime. There were even the choice words about Redick's mom, sister…
"That same season, a fan at Wake Forest told Redick to go 'F--- yourself' during the national anthem."

"There's just something wrong with the culture of playing on the road in college basketball," Redick told the New York Times after one road game his senior year. "If you say those things on the street, you can probably press criminal charges. But for some reason, in the arena of sport, it's O.K."
Of course, there's also the alternative. Today, Redick is in Orlando, with nacho-nibbling NBA fans who greet his trademark three-point shooting with listless cheers. Hansbrough might try to use Beaker taunts as motivation this year, but one day, a liquored-up Krzyzewskiville will be a mere memory.

When Redick was a senior, Minnesota rookie and former rival Rashad McCants was asked why J.J. got it so bad.

"Just wait til he gets to the NBA. It'll be different," said McCants. "They won't bother anymore."

Enjoy it while it lasts, Tyler.
---
[RICK REILLY CHECKS IN WITH TYLER HANSBROUGH]