THE MAG.COM PRESENTS: ALL WORLD POWER RANKINGS
by Ted Bauer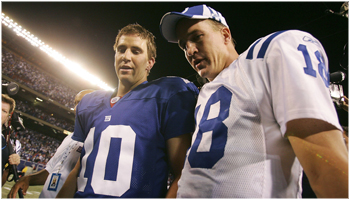 Getty Images
BEST POTENTIAL PLAYOFF MATCHUP? WE GOTTA GO "MANNING BOWL."
Want to see more "All-World Power Rankings?"
We were never very good at math, so we'll spare you the whole "this-is-how-many-potential-playoff-matchups-there-are" thing. We have no idea, and frankly, who cares? Ya play with the cards you're dealt. It's time to rampantly speculate on some of the best games we could see. Disagree? Holla.
TOP 5
RANK (YESTERDAY)
WHAT
WHY
1 (4)
TOM LANDRY
Let's see. Two Super Bowl wins, 270 wins overall, invented the 4-3 defense, was intensely humble and also ran 30 bombing missions in WWII, once surviving a crash. And Homer bought his hat. Jerry Jones, cold or not, is a brassy fella for dismissing Landry.
2 (6)
BILL BELICHICK
The Browns' pain is New England's gain. We're assuming he learned something, yes? He's proven it too, with 3 titles that could be 4, and regularly seeing his assistants nabbed up. Just remember, he also was the Jets coach for, well, a day, before he scribbled "I resign as HC of the NYJ." on a sheet of paper, and then gave a press conference. Really.
3 (7)
TONY DUNGY
We mentioned this before: is there a better coach right now than Dungy? It's amazing. He wins 12 games a year, and the dude had one bad season. One! And with the Bucs. He handed Jon Gruden a Super Bowl after Tampa pushed him out. Lucky for the Colts. Also good riot fodder to switch him and Belichick around.
4 (9)
MARTY SCHOTTENHEIMER
Dude amazes us. He got fired after going 14-2 and his team fumbled away a chance at the Super Bowl. 14-2! Marty-ball drove some people nuts, but all he is capable of is winning. He has 200 wins against 126 losses. Coaches he helped launch: Cowher, Dungy, Edwards, Cameron, Lovie, Lewis, Marinelli, Tomlin… Quit griping about Super Bowl's. Guy's been screwed by fumbles more than Giants coaches when Tiki was there.
5 (11)
MIKE SHANAHAN
Let's just say Mike has some mild contempt for Al Davis. A Hall of Fame lock with two Super Bowl titles. Did we mention he thinks Al Davis is a…oh, we did.
HONORABLE MENTION
RANK (YESTERDAY)
WHAT
WHY
6 (14)
CHUCK KNOX
The guy has 186 wins, could grind it (nickname is Ground Chuck) or throw it, and won games in Seattle and with the Rams, on teams that are short on Hall of Fame talent. Would also be a great name for a fighter. Look into it.
9 (11)
TOM COUGHLIN
Just remember: he once took Jacksonville to the AFC title game…in their second season! Be five minutes early and shut up and your team will win under this guy.
RISING AND FALLING
MOVEMENT
WHAT
DAN REEVES (Commercial? Killer. Comments? Wow.)
NICK SABAN (At least his players are thinkin' NFL.)
For more All-World Power Rankings,
CLICK HERE