Clip Reel: Darren Sproles
This guy is filthier than your shower.
by Ted Bauer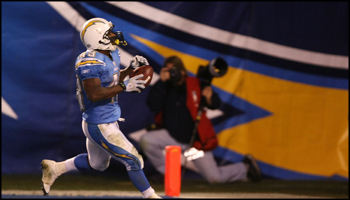 Getty Images
Quick question: what has a more ridiculous flow, Darren Sproles running all around the Colts or Lupe Fiasco's "Hip Hop Saved My Life?" It's a tough one. Deeper question to probe: is there even a remote "RB controversy" for this Steelers game? Doubtful, but possible. Here we go with a look at Mighty Mouse, fresh off one of the most ridiculous wild-card performances in years.
His Wiki.
Pro Football Reference.
Nice USA Today piece on him.
His page on the Chargers website.
A 5:21 Sproles highlight video, mostly with Kansas State video.
Darren Sproles for Heisman.
A 4:10 Sproles highlight video. Again, mostly KSU.
Short interview clip with Sproles.
"The Life and Times of Darren Sproles."
Sproles' winning TD in OT against Indy.
"Darren Sproles: K-State Legend."
Here are some nice highlights from his sophomore year at K-State.
Here are some highlights of Sproles from Week 17 this year against Denver.
Sproles interview with ESPN after the Colts game.
About 1:11 of clips from this season. He is super fast.
"Darren Sproles made a lot of money this past weekend."
"There is room for the little man."
So seriously, where might Sproles end up?