Clip Reel: The Steelers vs. Ravens Rivalry
This one is fairly nasty.
by Ted Bauer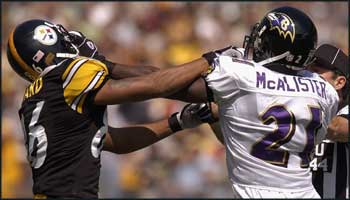 Getty Images
This one's never been super nice.
They're calling Sunday night's AFC Championship "Steelers/Ravens III," which is befitting because, well, it's the third time they've played each other this season but also because the "III" conjures up images of a boxing poster and frankly, that's what this thang is gonna be. The AFC North rivalry has grown heated in the past few years. Let's take a deeper look.
Some details on it can be found here.
More "deets" here.
2006 article from a Pittsburgh paper on how the rivalry "stands the test of time."
AFC North talk board: "Nothing friendly about this rivalry."
Baltimore Sun blog is already fired up.
Another good article about the history of this thing.
"Steelers and Ravens thrive on hatred."
This post claims it's the best rivalry in the NFL.
Always good to get some takes from Bleacher Report into these discussions.
Somehow, Dr. Phil talked to a newspaper about the dynamic between the two teams.
Here's video of Bart Scott talking about the rivalry.
Here's video of Ray Lewis weighing in on the matter.
Nantz/Simms, who will be doing Sunday's game, recapping the controversial 13-9 game from this season.
Short video on the rivalry.
Some clips from their MNF game in 2007.
Hines Ward trucks Ed Reed.
The official song of the rivalry, "Got D?"
Lawrence Timmons blows up Derrick Mason.
Santonio Holmes' controversial TD.
This play is hard to watch: Lewis vs. Mendenhall.
Lewis intro vs. Steelers from the December game this year.
We'll end on a comedic note: "Zapruder Film" evidence on Santonio Holmes' TD this season.