ESPNTheMag.Com Presents: All-World Power Rankings
by Ted Bauer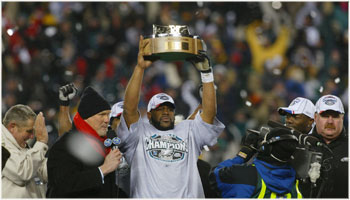 Getty Images
BEST GAME FROM DONOVAN MCNABB? WE'LL TAKE THE NFC TITLE GAME WIN OVER THE FALCONS
[Ed's note: Not sure what All-World Power Rankings is? Please click here.]
Right now, what is Donovan McNabb's legacy? Is it that of a brilliant and athletic quarterback who made the Eagles a consistently relevant team for a decade? Or is it the guy who threw up at the Super Bowl, didn't know NFL games could end in ties, and grabbed a phone along the G-Men's sideline this past weekend? More importantly: if McNabb wins this Sunday and gets to his second Super Bowl, what does that do to your view of his legacy? Must he win the SB? If McNabb wants to cement his place alongside Ryan Howard in modern Philly sports history, he should go through the list below and channel some of those performances.

TOP 5
RANK (YESTERDAY)
WHAT
WHY
1 (14)
2004 NFC TITLE GAME (JANUARY 23, 2005)
It would have been a hard pill to swallow to lose four straight NFC Title games, especially against a team that plays in a dome in a game with sub-zero wind chills. McNabb won this game without Terrell Owens—he'd come back for the Super Bowl, which of course was a loss to the Patriots—but this is important as a game McNabb "got over (one) hump."
2 (410)
"4TH AND 26" (JANUARY 11, 2004)
Wikipedia has pages on everything, eh? Apparently the play was called "74 Double Go" and it jammed a rather large stake into Brett Favre's heart. Seriously, this was an amazing sequence to watch and anytime Freddie Mitchell can be relevant, we're happy. (Hey-yo!) We'd probably have this No. 1, except the Eagles lost to the Panthers in the NFC Title game this year.
3 (21)
SEPTEMBER 5, 1998: TENNESSEE 34, SYRACUSE 33
This ended up being Tennessee's undefeated season and national title under Phil Fulmer, but at the very beginning of the season, McNabb and the Orangemen almost knocked 'em off. Excellent recap of the game here. We realize this was a loss and he had some big wins at 'Cuse, but this game was just awesome to watch and helped put D-Mac on the national stage even more.
4 (127)
NOVEMBER 14, 1998: SYRACUSE 28, VIRGINIA TECH 26
Wanted a 'Cuse win, did ya? Here ya go. Frank Beamer is clearly not happy about this.
5 (899)
NOVEMBER 26, 2000: EAGLES 23, REDSKINS 20
Uh, he accounted for 90.7% of Philly's offense in this game. Check the box score. His 125 yards rushing were the most by a QB in a game since '72.