Clip Reel: Jelani Jenkins
He could go to Florida, USC, Penn State or Notre Dame. How big an influence might he make?
by Ted Bauer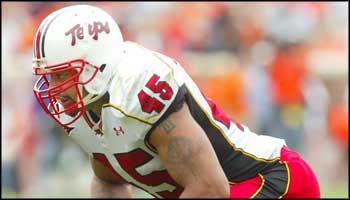 Getty Images
Jelani Jenkins isn't headed to the Terps. But could he become as dominant a LB as fellow Beltway native Shawne Merriman?
In the February 9, 2009 issue of ESPN The Magazine, there's a feature called "Please Sign Here" about the recruiting process for Maryland HS football star Jelani Jenkins. (Read it here.) To give you a little more context on Jenkins, we wanted to link up some resources you can pursue to understand how much of a program-changer he might become.
Here's his Rivals page.
Scout.Com page.
ESPN Insider profile.
Takkle page.
A blog post about him from a site called "Varsity Blue."
A Washington Post piece on Jenkins.
This MaxPreps article is called "The Rapid Rise of Jelani Jenkins."
Good Scouts, Inc. piece on his scholarship too.
Here's a 4:00 video clip of Jenkins.
Here's a 9:00 clip.
This one is five minutes long.
This puppy's 2:30.
Here's one not-so-good clip of Jenkins.
So seriously, where will Jelani end up?