The NEXT: Michigan vs. OSU Anniversary To Consider
It's been 1900 days since the last Wolverine win over the Buckeyes on the gridiron.
by Ted Bauer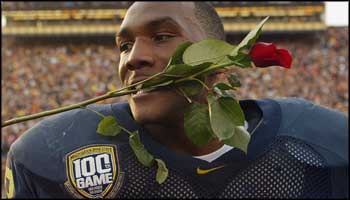 Getty Images
Chris Perry was there the last time Michigan > Ohio State.
Important note: when we say what we're about to say, we are not hating. We're simply presenting a fact: apparently, it's been 1900 days (as of February 3, 2009) since the last Michigan win over Ohio State in football. That was November 22, 2003—Michigan 35, OSU 21. Here's video. Know how long ago that was? Three days later, we found out that the U.S. government grew at a 8.2% rate during the third quarter of '03. Ouch. Rooting for Rodriguez might be good for the nation!