ESPNTheMag.Com Presents: All-World Power Rankings
by Ted Bauer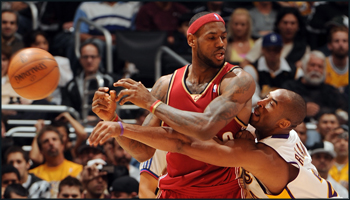 Getty Images
WHEN IT COMES TO THE BEST POTENTIAL NBA FINALS MATCHUP AS OF EARLY FEBRUARY, WE'RE GOING TO TAKE LAKERS VS. CAVALIERS
What is "All-World Power Rankings?"
One of our friends has a friend in town this weekend, and sent a group e-mail Thursday night: "Weak sports weekend, so there's opportunity to do a lot more!" We tend to agree. College basketball is a lil' weak, although Gonzaga/Memphis (9pm Saturday, ESPN) will be fun. (If you're into big 'Zaga games, you should read this too.) The sporting high point of the weekend is probably Sunday's 3:30pm ABC tilt between the Cavs and Lakers. (If Kobe Bryant vs. LeBron James intrigues you, read and watch this and this.) Got us thinking: that could be fun in June, right? What else could be?

TOP 5
RANK (YESTERDAY)
WHAT
WHY
1 (14)
LAKERS VS. CAVALIERS
This probably wouldn't settle the Kobe/LeBron argument once and for all, but if Kobe were to drop two straight Finals, it might officially put a nail in the coffin of the Kobe/MJ argument, assuming last year didn't do that for ya. The Lakers have more pieces than the Cavs, so this one might not be competitive overall, but you know those dudes would put on at least one fireworks show.
2 (410)
LAKERS VS. CELTICS
This is still an interesting battle with a classic amount of history. Lakers took the season series 2-0, and there's this whole argument, so it could be a different story than last year.
3 (21)
HORNETS VS. CAVALIERS
What do you think CP3 vs. LeBron would do to the rap industry for that week and a half?
4 (127)
CELTICS VS. SPURS
Argument against this is likely "potential boredom," but we like these factors: (a) "The Big Three" vs. "The Big Three" and (b) fundamental basketball with fiery dudes all around.
5 (899)
CAVALIERS VS. NUGGETS
This would get won and lost in Chauncey Billups vs. Mo Williams, but wouldn't a Bron Bron vs. Carmelo head-to-head be fun?
HONORABLE MENTION
RANK (YESTERDAY)
WHAT
WHY
18 (144)
LAKERS VS. MAGIC
We wanted to create a potential match-up for the Magic, and at first we thought (far-fetched): "Blazers." Oden and Aldridge vs. Howard? Could be fun. Then we remembered the ol' "Kobe posterizes Dwight" dunk and realized that watching a Lakers four-game sweep in which Dwight keeps trying to get 18 million viewers style revenge would be cool.
28 (701)
HORNETS VS. PISTONS
We like this for "the old school PG has his final shot at a ring vs. the new generation of point guard." Guess Jazz vs. Pistons would work that angle, too. It could be an evenly-matched series, also.