Dwight Howard's All-Access All-Star Weekend
Dwight is going to let his fans experience everything about next weekend in Phoenix first-hand.
by Ted Bauer, via the NBA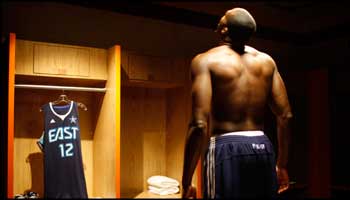 Walter Iooss Jr.
A shot from the Dwight Howard "Man Child" video on the adidas Basketball site.
To watch a cool video with Dwight Howard, go here.
Dwight Howard is a smart dude. In a world where everything can be on Twitter, YouTube, Facebook or Flickr within mere seconds, he's giving his fans full-access to his role at All-Star Weekend seven days hence in Phoenix.
He'll arrive next Friday with his Samsung Behold camera in hand and put everything he experiences online almost instantly. It makes sense, considering that (a) he was a huge deal at last year's All-Star festivities and (b) he did just land three million votes to get to Phoenix. If you go over to the adidas Basketball website and/or ESPN.Com, they're throwing up this "Man Child" video today (02-06-09), where Howard gives you an exclusive look at his pre-game ritual. That'll be cool. (That's what the pic here is from.) And hey, if you really love Dwight—he's on the next cover of ESPN The Magazine. (You just learned a secret.)