Russell Westbrook for Slam Dunk Contest '09!
With Rudy Gay out of the Slam Dunk contest, shouldn't Russell Westbrook be in?
by Ted Bauer and Welcome to Loud City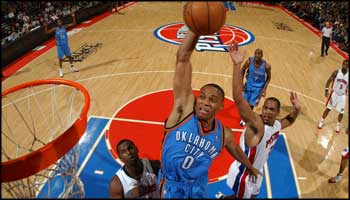 Getty Images
Get him to Phoenix this Saturday night.
Rudy Gay is out of the '09 Slam Dunk contest due to injury. As such, if the NBA is willing to throw in a fourth contestant on short notice, it seems logical it should be either Joe Alexander or Russell Westbrook, the two guys who lost to Rudy Fernandez in the NBA.Com vote-off. We love "Vanilla Sky" (our girl Elena at the office says, "If he gets in, he needs Penelope Cruz to throw him the bounce pass," and we agree), but check this out: a petition for Westbrook to enter the dunk contest. The guy could do some damage; peep this , for example. We say vote!
THE RUSSELL WESTBROOK PETITION