ESPNTheMag.Com Presents: All-World Power Rankings
What's the biggest sporting event in Phoenix-area history?
by Ted Bauer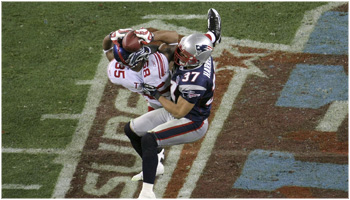 Getty Images
WHEN IT COMES TO THE BEST PHOENIX-AREA SPORTING EVENT, WE'LL TAKE SUPER BOWL XLII
What is "All-World Power Rankings?"
The NBA All-Star game itself is a little weak (no one plays defense) but the weekend overall should be fun over in The Valley of the Sun. We decided to make a list of the best Phoenix-area sporting events over the years. While researching said list, we realized there have been some doozies of athletic contests played in dry heat. The Fiesta Bowl was hosted there from '71 to '06, and some of those were classics. 'Twas a tough list, although No. 1 wasn't too hard.

TOP 5
RANK (YESTERDAY)
WHAT
WHY
1 (14)
SUPER BOWL XLII
We got a lot of e-mails about this whole Luke Russert column comparing Super Bowl XLII to Super Bowl XLIII, but honestly, Super Bowl XLII was a darn good game. And a Super Bowl. That elevates it to No. 1.
2 (410)
MIAMI VS. OHIO STATE FOR THE NATIONAL TITLE
We think the game we're gonna put at No. 3 was overall better, but this sucka was for a national title. You want to get controversial right now? Sure. It was also Jim Tressel's last truly significant win. Ha, this'll end up on some OSU kid's Facebook page.
3 (21)
OKLAHOMA VS. BOISE STATE IN THE FIESTA BOWL
Maybe the greatest ending sequence to a bowl game in history; if not, then definitely recent history.
4 (127)
2001 WORLD SERIES, GAME 7
Honestly, this should be higher. Hey, Buster Olney wrote a book about it!
5 (899)
2008 NFC CHAMPIONSHIP GAME
Just for what it represented to have the Cardinals hosting a NFC Title game, ya gotta have this here, don't you? Watch this.
HONORABLE MENTION
RANK (YESTERDAY)
WHAT
WHY
18 (144)
1993 NBA FINALS, GAME 6
Sure, the Suns lost and gave MJ another ring. It was a good game, though. Really good. Question: how the heck did John Paxson end up with the ball at the end?
28 (701)
2008 NFC WILD CARD GAME VS. FALCONS
Again, for what it represented. And for that ridic Larry Fitzgerald catch.