The Gamer: A word with Reggie Bush
No. 25 talks Madden, punt returns and expectations for next season.
by Jon Robinson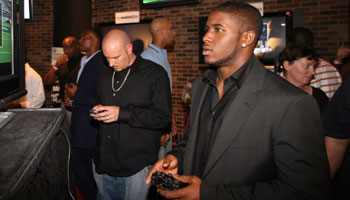 Getty Images
Punt returns are not nearly as frightening when they're virtual.
Reggie Bush is on the phone, but all I hear is some crazed screaming in the background.
"You hear that?" he asks. "It's (WWE wrestler) John Cena. He's going wild."

New tag team just in time for Wrestlemania? Don't get your hopes up. Bush and Cena were in Orlando alongside Tiger Woods, Derek Jeter, Denny Hamlin and a one-armed Jameer Nelson taking on some of the best gamers in the world at the Gillette Champions of Gaming tournament.

Bush was there to take on all comers at Madden, a game he grew up playing.

"I was a huge Madden nut as a kid and I still love it," he says. "They do a great job of making it as real as possible but still making it fun. I always remember every year how you wait for the new Madden to come out and always looking forward to it. It's still like that, really."

Here's what else Bush had to say as we talked video games, punt returns and his life as a celebrity baller.

The Mag: When you were a kid, what pro player would you have loved to play Madden against?
Bush: I always idolized guys like Deion Sanders, Barry Sanders, Steve Young and the entire 49ers team, really. I was a huge 49ers fan growing up. As a kid, I just loved the game of football and I think this tournament is a great way to give fans a way to play us at the game. I would've loved something like this when I was a kid.
EA Sports is working on Madden NFL 10 right now. Any feature you'd like to see added to the game?
Man, I really don't have any genius advice for them. They just need to keep doing what they're doing. If I could come up with that stuff, I'd probably work on having my own game. [laughs] They really need to keep working on making things as realistic as possible.

Do you play as the Saints?
Oh yeah, of course. Got to. I throw the ball a little bit, give myself the ball.

But doesn't your opponent know if they shut down your character, you won't know who else to give it to?
I don't give it to myself every play. I'm not that kind of guy. [laughs] But I definitely try to give myself the ball a little bit … I try to blow him up.

What video game systems do you have at home?
The PS3. I've always been a big PlayStation fan. Even when the Xbox first came out, I stuck with the PlayStation. I think it's because when the Xbox first came out, the controller was so different that you just automatically assumed that it was harder to play, and I always just stuck with that notion.

In Madden, I've gotten your character injured a lot on punt returns. Sorry. Anyway, what's it like returning punts for real when you have 11 guys running full speed down the field trying to knock you out?
Sounds like a scary story, right? Like a bad dream. But it's a rush, definitely. It's a part of the game I enjoy so much because it's a chance to make a play. There's no real play you design for it, you just get a block, make a few people miss and hopefully score some touchdowns. I think it's a really exciting part of the game. I know I enjoy it.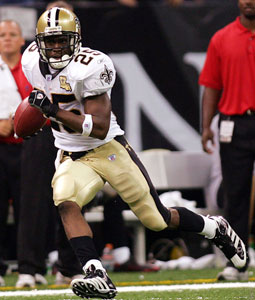 Getty Images
It might be all in slow-mo for Reggie, but he looks pretty fast to us.
You had that Monday night game this year where you almost scored on three punt returns. What's it like to get in a zone like that? Does it look like slow motion?
For me, I try to slow the game down as much as possible. That comes from preparing yourself mentally by watching film and knowing your opponents and knowing what their weaknesses are. That's how you slow the game down. You hear people use the term, slowing down the game, but for me at least, it doesn't really slow down on the field. Everything happens so fast, but you need to be able to see stuff, see the openings before they actually happen.

That's what those Madden players do. They can look at the line of scrimmage and they know the exact audible or hot route to call.
These guys are incredible. They've been slowing it down on me all day.

How's your knee?
The knee is doing well. I expect to be 100% before mini-camp and OTA starts. I'm looking forward to bigger and better things out of the Saints this year.

It sounded scary when all of the initial reports came out. I thought you'd be out longer.
I know, it was scary for me, too.

Thinking back to your days at USC, did you know back then how good Matt Cassel was?
I think Matt was just there at the wrong time. We never really got a chance to see him play, so nobody really knew. He backed up two Heisman winning quarterbacks, Carson Palmer and Matt Leinart, so it's not like the guy couldn't play. He was just playing behind two great quarterbacks. There was no doubt that he could've stepped in there and been a great player at USC, but he just never got the opportunity because of the guys in front of him.

You mentioned earlier how you hoped for bigger and better things out of the Saints this year. How about for yourself? Do you have a personal goal for this season?
Honestly, my goal, I want to be MVP of the league next year. I'm working hard, I've been working hard, and I want to be MVP. I want to see the Saints in the playoffs and competing and winning games and definitely not losing as many games as we did. I want us to be one of the most fiercely competitive teams in the league. I want the Saints to be one of those teams where when other teams see us on the schedule, they know they're in for one hell of a game.

You might even be battling Drew Brees for that award.
Might be, but competition is competition.

Is getting on the cover of Madden also a goal or do you worry about the curse?
I don't think about stuff like that. If it happens, it happens, but it's not something I worry about.

But you're used to having your picture taken. Every time you go out, you're hounded by the paparazzi. Is the celebrity aspect weird to you?
It is kind of weird, but it's mainly because of my girlfriend, not me. The paparazzi is what it is. You deal with it and it's part of celebrity. The biggest thing is to just be respectful, and don't let them catch you doing anything crazy, and you'll be fine.

You also need to watch out for Cena. He might clip you with an elbow if you're not careful.
That's for real. [laughs]