ESPNTheMag.Com's All-World Power Rankings
What's the best sporting-context speech ever?
by Ted Bauer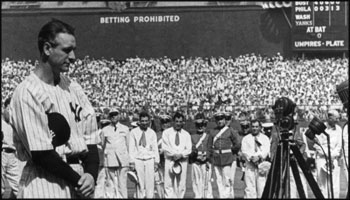 Getty Images
WHEN IT COMES TO THE BEST SPORTING SPEECHES (MOVIES AND REAL LIFE!), WE'LL TAKE LOU GEHRIG'S FAREWELL
Oscars on Sunday should be fun. Consider this: the two front-runners for Best Actor are Sean Penn and Mickey Rourke (here's that Bill Simmons column on The Wrestler), and one of 'em probably wins. (That's what "front-runner" means.) They are both kinda intense as public speakers, so there's a good chance the speech will be memorable. Even though the thanking of personal assistants adds about four hours to Hugh Jackman's life, it's definitely a main reason you watch, right? (For us, it's mostly about Giuliana Rancic, which is why we're still trying to get on The Apprentice). We decided to rank some sporting-context speeches as something for ya to browse over the weekend. Phun! Uh, don't worry, Cuba Gooding Jr is definitely in there. For an exhaustive list of these (with clips!), go here.
TOP 5
RANK (YESTERDAY)
WHAT
WHY
1 (4)
THE LOU GEHRIG SPEECH
The thing is fairly iconic.
2 (6)
NORMAN DALE SPEECH IN HOOSIERS
So good. If we had a coach like this in high school, jeez, the sky would really be the limit for us.
3 (7)
"RUDY AND THE JANITOR"
In truth, the best thing about Rudy is that Vince Vaughn and Jon Favreau met on the set, and the second-best thing is that a kid from The Goonies played a member of Notre Dame football less than a decade after the former flick. The third best thing? This speech. Our dad once walked in on us watching this, saw us crying and goes, "Ugh."
4 (9)
TONS OF STUFF FROM REMEMBER THE TITANS
Cue the commenters: "Disney homers!" Naw. (Well, somewhat.) There's a lot of good stuff in this movie. We picked out this clip as our fave, although there are other good ones. Side note: remember Denzel's Oscar acceptance speech for Training Day? It's underrated.
5 (11)
CUBA GOODING JR'S OSCAR SPEECH
Speaking of Oscar speeches, we had to get this in here. Think it's not "sporting-related?" He won it for playing a wide receiver on the Cardinals, right? With the possible exception of Jack Palance, this might be the funniest Oscar acceptance ever. The look on Tom Cruise's face is priceless.
HONORABLE MENTION
RANK (YESTERDAY)
WHAT
WHY
19 (180)
ED REED'S HALFTIME SPEECH, MIAMI VS. FSU
Because he plays with Ray Lewis in the pros, you sometimes forget Reed is a fired-up dude and a true leader. Here's the proof.
138 (1,651)
AL PACINO'S SPEECH IN ANY GIVEN SUNDAY
Too high? Maybe. What really intrigues us about this movie is that Jessie Spano plays a hooker, but this speech is pretty money too. Any Given Sunday gets shafted in many discussions: best sports movie, best football movie, best Al Pacino role, best Oliver Stone movie, etc. It's better than most people think.
For more All-World Power Rankings,
CLICK HERE