ESPNTheMag.Com's All-World Power Rankings
Who's the best Rams draft pick of all-time?
by Ted Bauer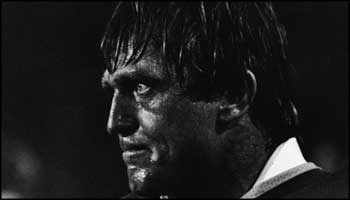 Getty Images
BEST RAMS DRAFT PICK OF ALL-TIME? TOUGH ONE, BUT WE'LL TAKE JACK YOUNGBLOOD.
What is "All-World Power Rankings?"
Steve Spagnuolo seems like a smart football guy, but he has his work cut out for him a lil' bit: this is the second straight year the Rams will hold the No. 2 pick. Since we've already attempted to rank the best Lions (No. 1 pick) draft picks of all-time, we now turn attention to the Rams. This is not limited to St. Louis; the list includes picks from the LA era as well. If you're an Insider (

)—you should be, with all this Spring Training/March Madness/NFL Draft stuff going down—you can check out their new "60 Days 'Till the NFL Draft" series behind the pay wall. Fun stuff for a mere $2.50 a month. OK, Rams time.
TOP 5
RANK (YESTERDAY)
WHAT
WHY
1 (4)
JACK YOUNGBLOOD
Five eventual Hall of Famers have been drafted by the Rams organization. Youngblood played his entire career with the (LA) Rams, including a stretch of 201 consecutive games. He had 150 career sacks and made the Pro Bowl seven times. Dude apparently played a game with a broken leg once. That gets you No. 1.
2 (6)
ORLANDO PACE
We wanted to put Eric Dickerson here, but just look at it this way: Rams nab Pace No. 1 overall in 1997, win the Super Bowl a couple of years later. Kurt Warner is a dream story, to be sure, but the dude probably woulda been on his back a lot more if not for the ex-Buckeye at the LT slot.
3 (7)
ERIC DICKERSON
He's a Hall of Famer, made four Pro Bowls with the Rams, and is probably the player most associated with the franchise before the Pace, Warner, Marshall Faulk period.
4 (9)
ISAAC BRUCE
Definitely better players we could put here, but think of it this way: the LA Rams drafted Bruce in the second round of the 1994 NFL Draft; his first contract was for three years and $1.75 million. He's now among the top five or six receivers, at least statistically, in NFL history—and he caught what was essentially the game-winning pass from Warner in that Super Bowl against Tennessee.
5 (11)
MERLIN OLSEN
You could easily make a case for him at No. 1 on this list. Played his entire career with the Rams and made the Pro Bowl fourteen times. Bonus for the younger generation: was referenced in the film Anchorman.
HONORABLE MENTION
RANK (YESTERDAY)
WHAT
WHY
19 (180)
KEVIN CARTER
This might be too high, but he was a beast in their most recent championship season (dude was a first-team All-Pro in 1999).
138 (1,651)
OSHIOMOGHO ATOGWE
People will probably disagree with this (e-mail us) but here's the basic logic: you could put Steven Jackson or a few old-school players here. If the Rams are going to "right the ship," O.J. is a big part of it. We saw a couple of STL games last year and it seems like their secondary gets exposed pretty badly. Oshiomogho is a good safety, so if he's ready to make the next leap towards Ed Reed territory, that could be huge for "Spags." (Hey, read this too.)
RISING AND FALLING
MOVEMENT
WHAT
CHRIS LONG (He'll be doing commercials with Teri Hatcher's daughter in about two decades.)
JEROME BETTIS (Good pick and all, sure…but where did he become famous and win it all?)
For more All-World Power Rankings,
CLICK HERE