Clip Reel: The Bad Luke Harangody
A scout once said Harangody has a good NBA future, "projecting as a Matt Bonner-type." That's good?
by Ted Bauer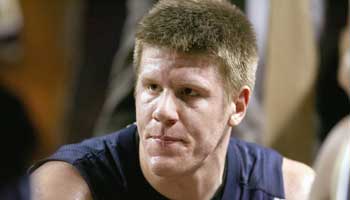 Getty Images
Cue Barney Gumble: "Don't cry for me; I'm already dead."
In our college basketball preview issue, the central feature was on returning big men. In the article, Hasheem Thabeet basically called out Luke Harangody as soft; the blogosphere went nuts. See, back in October, people were legitimately picking Notre Dame to make the Final Four. If they make any final group of four, it now appears it'll be in New York, not Detroit. (We don't wanna say "we told you so," but Harangody's inability to contain Roy Hibbert last season in two games shoulda been a red flag.) We present you two clips of Harangody getting posterized, not to rub salt in the wounds (everyone gets posterized now and again) but to underscore a theme of the day: sorry, Mike Brey. Just sorry. Here's Clip 1, via Louisville and Clip 2, via UConn.