Racy Ryan's NASCAR Advice Column
Enjoy the leather couch and let your motorsports problems out.
by Ryan McGee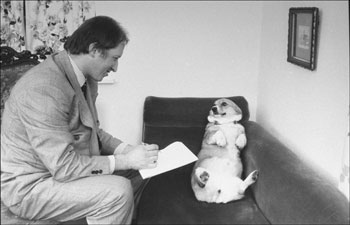 Getty Images
"I worry about Logano." ... "There, there, Tracker."
In today's world, racing and otherwise, we all seem like little lambs lost in the emotional and economical woods.
Well, help is here, my axle grease-covered brothers and sisters, like an NHRA Safety Safari of the mind. I, Dr. Racy Ryan, the Internet's only licensed motorsports advice columnist, am here to heal your wounds and help you find more bite up off the exit of your emotional corners. So light a road flare and turn on the caution lights as we channel the spirits of Ann Landers, Dr. Joyce Brothers and Johnny "Mad Man" Mantz. Let the healing begin.
Dear Racy Ryan,
My wife is a huge Dale Earnhardt Junior fan. She's been locked in her sewing room ever since the big crash in the Daytona 500. What can I say to her that will bring her back out and back into my life? - Alone in Solitude, IN
Dear Alone,
Step one is always admitting the problem. Go to the ESPN.com NASCAR page, print out the story where Dale admits that he caused the Big One and slide it under the door for her to read. Once she sees that her hero is willing to live with it, she should be able to do the same. If that doesn't work, then reenact the M. Night Shyamalan movie Signs and bang around out in the hallway to make her think that aliens are in the house and trying to get into her room to kill her. It won't make her come out, but you could videotape it and end up standing next to Tom Bergeron on America's Funniest Home Videos.
Dear Racy Ryan,
The recent rash of blown engines in Sprint Cup races has me on edge and is causing me to have panic attacks every time I go to turn the key and start my personal car. What do you think is causing it all? - Done Blowed Up in Bangs, TX

Dear DBU,
There doesn't seem to be one uniform failure of a part or a problem that has led to all the engine troubles. Hendrick's issues at Fontana were from a bad batch of vendor-supplied parts; Toyota's ongoing problems were either a lubrication problem or a cataloging problem (depending on whom you ask); and Roush's Vegas busts came thanks to higher speeds than they'd anticipated. The short of the long of it is that these teams are making insane amounts of horsepower (850-950!) and the lack of testing hasn't given them a chance to be as accurate melding all that umph with their chassis setups. When you're running that close to the edge all the time, something has to give—ask Joaquin Phoenix. The engine problems will decrease as the season wears on. As for your car, your fears are unwarranted…unless you have a Toyota Racing Development engine in your minivan. Then you'll need to change engines everyday when you get home, just as the Toyota teams have had to do so far this season.
Dear Racy Ryan,
Settle a bet for me. My loud, somewhat abusive uncle is always screaming that Mark Martin is the greatest NASCAR driver of the last 20 years. I say it is Jeff Gordon. Who is right and what should I do about my family issues? - On Fire in St. Elmo, AL
Dear On Fire,
First, you are right and he is wrong. Second, go on and fight him. If his hero is Mark Martin, then chances are he won't come up big with the money on the line either.
Dear Racy Ryan,
Isn't this column just a weak rip-off of Marty Smith's Door-to-Door? - Yawning in Boring, MD
Dear Yawning,
You seem to be assuming a lot here, as if you, your question and my psychology degree are all actually real.
Dear Racy Ryan,
I was deeply disturbed to read Kyle Petty's sharp words about not caring about newly-formed Richard Petty Motorsports. I have always used the Petty family as a model for my own. Is there actual trouble in the Kingdom or is my family safe? - Loyal Servant in King's Mountain, NC
Dear Servant,
I hate to break this to you, but there has been a lot of tension in the Petty house for quite some time. Kyle was president of Petty Enterprises, still is, but had felt slighted ever since Robbie Loomis came back to run the racing operations in 2006. Kyle immediately felt like his No. 45 ride got secondhand equipment and crew after the more famous No. 43, and the rift grew larger when Loomis and The King decided to move the team from Randleman to Mooresville, sell majority interest to outside investors and then merge with Gillett Evernham Motorsports—all without consulting Kyle first. I'll be writing more about this later, but in the meantime (and I never thought I would be saying this) your family needs to find a new set of role models.
Dear Racy Ryan,
I am worried about my boy, Sam Hornish. He looks depressed and so do I. What do you think would cure our combined ills? - Beating in Dead Horse, AK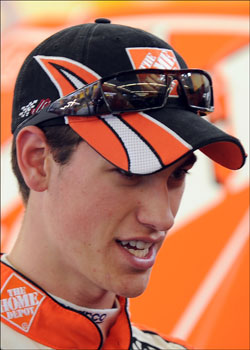 Getty Images
"This is hard."
Dear Beating,
You've got to look on the bright side. Last weekend at Las Vegas, the three-time IRL champ finished 16th, the third best finish of his Cup Series career. Wait…that's really his third best finish after 39 starts? Damn, that is depressing. Fill out two Indy Car job applications and call me in the morning.
Dear Racy Ryan,
I keep having dreams that people in orange overalls are chasing me down the street like an angry mob and I am naked. Any idea what that might mean? - Joey in Middletown, CT
Dear Joey,
Yes, Mr. Logano, I do. It means you'd better get up on the wheel before all those Home Depot employees turn on you like those people that went after Belle and the Beast. They've become a little spoiled and expect solid results faster than a sack of QuickCrete. After his first six Cup starts your predecessor, Tony Stewart, had already started on the front row of the Daytona 500 and posted two sixth-place finishes. So far, you've led one lap with an average finish of 32.2. I'm not saying it's fair to be compared to one of the greatest natural talents in American motorsports history, but that's how it is … especially if you allow people to call you Sliced Bread.
Dear Racy Ryan
I have been doing some investigating and I can't find any evidence that you are a licensed psychologist, psychiatrist, therapist or even a middle school guidance counselor. I'm calling the authorities and having you shut down, you charlatan! - Phil in Hollywood, CA
Yo Phil,
I know who you are, Doc. Bring it on. I'll whip you faster than a Texas horny toad on the hunt for supper. And that goes for Robin too.
Alright folks, that'll do it for this edition of Racy Ryan, the Internet's only motorsports advice column. Keep those questions coming and, until next time, remember—it's not that other people don't like you, you don't like you.
---
Got a question for Racy Ryan? Email it.