Action Sports Report
Skier Kristi Leskinen takes matters into her own hands with her own slopestyle contest.
by Alyssa Roenigk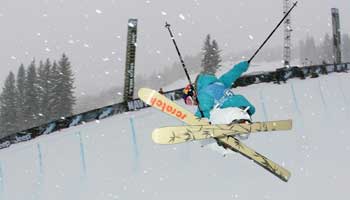 Getty Images
Steel City's finest, Kristi Leskinen.
[Ed.'s Note: The Action Sports Report is a weekly blog that covers sports from skateboarding to snowboarding to FMX.]
For the next few days, the epicenter of skiing and snowboarding isn't Aspen, Colorado; Park City, Utah or Stratton, Vermont. It's Pittsburgh, Pennsylvania.
The top female slopestyle skiers and snowboarders are gathered in Steel City for Kristi Leskinen's Homecoming Ski and Snowboard Invitational at Seven Springs Mountain Resort. A native of Pittsburgh, Leskinen grew up skiing at Seven Springs, and took her first runs on Wagner's beginner hill when she was 5 years old. Naturally, when she was selecting a location for her contest, she jumped at the chance to bring her peers home to PA.
"A ski contest in Colorado or Utah isn't a big deal," Leskinen says. "But when you hold a contest of this caliber in Pennsylvania, where nothing like this has been done, people get really excited." That doesn't mean it didn't take work to convince the top female skiers and snowboarders (Sarah Burke, Tara Dakides and Hana Beaman have already signed up) to trek to a tiny mountain resort in western Pennsylvania in the middle of the contest season. From the start, Leskinen was careful to manage the expectations of her peers when pitching them on the event. She was realistic about the level of sponsorship she would be able to wrangle in this tough economic environment and hoped the chance to compete in a contest designed specifically for female slopestyle riders would be enough to lure her peers to Seven Springs. "The prize purse is only $20,000," she says. "But the girls rallied behind the concept and what the contest stands for."
The athletes were also motivated by the chance to compete in an athlete-judged slopestyle contest with a jam format, instead of the typical two-run/best-score format used at most major contests. "I've been wanting to do a contest that was for athletes and by athletes," Leskinen says. "I feel like a lot of contests are held for reasons other than to showcase the talents of the athletes and progress the sport." The format allows competitors the opportunity to push themselves and try more progressive tricks without the stress of having only two runs that count. And, unlike many major courses, it was designed with women in mind.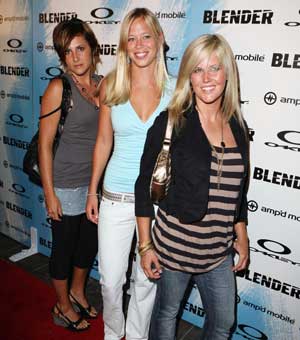 Getty Images
Kristi, Sarah Burke, and friend.
"Women's professional tennis players play three rounds instead of five," Leskinen says. "Pro golfers in the LPGA don't hit from the men's tees and women play softball instead of baseball. But we compete in one of the most dangerous sports in the world and we are given the same field of play as the men. Then, when the women aren't successful, people ask why the girls aren't doing better, why we're not as progressive as the men." For this event, Leskinen hired Snow Park Technologies—the same folks who will build the course at the U.S. Open in Stratton, Vermont (March 16-22)—to build a women's-specific slopestyle course at Seven Springs. "The jumps will be a little smaller, so the girls will go for tricks they might not try on the 80-foot jumps at the X Games," she says. "And with the jam format, they can lock in a safety run and then go for it."
Leskinen is not the first snowsport athlete to design an event to fill a specific void in the contest season. Last year, snowboarder Gretchen Bleiler held the first-annual Snow Angels Invitational, a women's only snowboard halfpipe contest and photo shoot, in her hometown of Aspen, Colo. Snowboarder Travis Rice organized the Quiksilver Natural Selection, a big-mountain contest in his hometown of Jackson Hole, Wyoming. And, on April 11th, skiier Simon Dumont hosts the Inaugural Dumont Cup at his home mountain Sunday River, Maine. Bleiler's event returns to Aspen April 2-5; Rice's Natural Selection was postponed until 2010. "Seeing what those guys did gave me the confidence I needed to do this," Leskinen says. "I just wish they'd told me how much work it would be."