Cleaning the Glass: Morehead State's Kenneth Faried
Everyone knows Blake Griffin and his 14.3 RPG. How much do you know about the second-best rebounder in the 2009 NCAA Tournament field?
by Scott Powers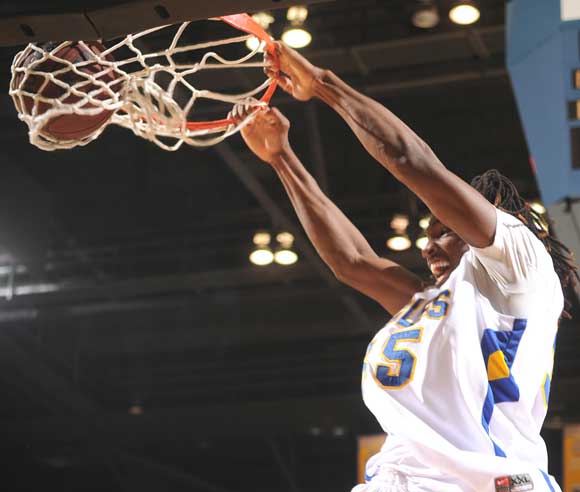 Getty Images
Kenneth Faried will do this on your dome, sure, but his preference is hauling in a rebound.
Statistically, the best rebounder in the NCAA Tournament is Oklahoma's Blake Griffin at 14.3 RPG. We all know him. No introduction necessary.
The second best isn't quite as celebrated.
His name is Kenneth Faried, a 6-8, 215-pound banger from New Jersey playing for Morehead State. He played in 34 games this season and grabbed double-digit rebounds in 28 of them. He had 24 boards against Florida A&M. He did it against the big boys too with 11 rebounds in 23 minutes against Louisville.
Faried may not be the star of this year's NCAA Tournament—there's a chance Morehead State won't even get past Tuesday's play-in game—but remember the name: he's only a sophomore. He'll likely be the nation's top rebounder for the following two seasons and then possibly headed to the NBA.
Morehead State coach Donnie Tyndall even compared him to another 6-8 forward from a small school who ended up having a pretty successful pro career.
"He reminds of Dennis Rodman," Tyndall said. "He just has a knack for chasing down balls out of his area. He has a great second jump. Rodman could jump four times before a lot of guys could twice. That's Kenneth."
Like Rodman, Faried feeds off his rebounding. Scoring points is OK—he can do it, averaging 13.9 for the season—but he'd prefer to rip the ball from over your head.
"Most people when they get a dunk or tip dunk, they get it going," said Faried, who is the 23rd-ranked sophomore on DraftExpress.com. "When I get a couple rebounds in a row, my energy skyrockets. I could go with 10 points or eight points or even no points as long I get double-figure rebounds. If I'm dominating you on the boards and keeping you from getting it, I know it's a good feeling."
"He reminds me of Dennis Rodman," says his coach.

Faried's early dominance has surprised some. Tyndall thought he had the potential to be a special one, but not until he was an upperclassman. Faried's work in the weight room is where he moved that schedule along. Since arriving on campus last year, he's increased his bench press by 70 pounds and added 30 pounds to his body. It also helped that he improved his mid-range game, can now finish with either hand around the rim and is up to 29.8 minutes a game from 20.2 last season.
If Morehead State was to defeat Alabama State on Tuesday, the Eagles would run into Louisville, a team that beat them by 38 in November. The Cardinals were also someone who showed some interest in Faried as a high school senior. Louisville, Rutgers and Seton Hall were among the schools that came into his recruiting picture late.
"He was a little under the radar," Tyndall said. "We weren't sure he was going to qualify, but we thought he was worth the risk. We got his ACT score on the last day. In the spring, the higher level teams came in and started messing with him. We had to monitor it pretty quickly. There were some people trying to convince him to go prep school and go bigger after a year in prep school."
Faried stayed faithful to Morehead State even when it was Big East schools knocking on his door.
"It was a lot of temptation there because I saw them on TV a lot," he said. "I'm the type of person who likes to commit to teams who commit to me. I wanted to play now. Like any other kid, you don't want to wait. You don't want to be patient. You want to go to the next level and make a big impact."
Plus, a lot of those schools won't be playing this week in the NCAA Tournament. Faried and Morehead State will.
"We got a trophy? We get a ring? It's no regrets at all," he said.