The Gamer Blog
EA Sports looks to make virtual tennis elbow a reality.
by Jon Robinson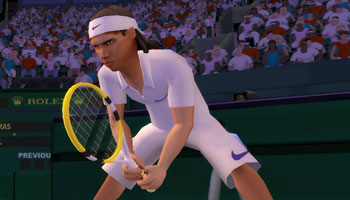 EA Sports
Finally, tennis players with arms!
While Wii Sports introduced the world to virtual tennis elbow and controller-damaged plasma screens, the game's simulation ability was hampered by the controller's ability to pickup only certain movements (and the fact the athletes on screen had no arms).
But all of this is about to change, as EA Sports looks to take advantage of Nintendo's upcoming Wii MotionPlus technology.
MotionPlus attaches to the Wii Remote Controller and precisely tracks every arm movement to provide near 1:1 response in gameplay. The results? How about the closest thing we've seen to a true golf swing simulator in Tiger Woods PGA Tour 10?
And then there's Grand Slam Tennis, a game that not only features John McEnroe smashing serves in short shorts and the Wimbledon license, but the ability for gamers to hit forehands and backhands based on form, timing and positioning of their controller.
Says Grand Slam's producer Thomas Singleton: "Without MotionPlus, your aiming is based on the timing of your swing. You plug in that MotionPlus controller and we consider the timing of your swing, but we also take into account where you finish your swing. You can actually place the ball by where you're finishing off your motion, putting twist and getting a little extra on the ball with your racket roll post swing."
In other words, get the ice bags ready. The next case of cyber-related lateral epicondylitis hits stores June 16.
And while that seems like a long wait, I caught up with Singleton at a recent EA Sports event to get even more details on his new tennis game, the inclusion of McEnroe and, of course, Wii-elbow.
The Mag: EA Sports just announced the inclusion of John McEnroe in Grand Slam Tennis. What does his addition mean to the franchise?
Singleton: It means the world. Any tennis product that is missing arguably one of the best tennis players of all time in Johnny-Mac and his personality and everything he brought to the game of tennis back then, and even what he brings to the sport today, it just wouldn't seem right.
The game has such a unique look to it. You have the real players wearing the gear of their era, but, at the same time, it's a very stylized look. How important is it to capture the personality of each player through the look of their character?
The authenticity lies in the personalities of these characters, and we definitely wanted to design a stylized look for this platform and the Wii consumer. But at the same time, we wanted to make sure we got in everything like the short shorts and the headbands and the hairstyles from the 70s and 80s, just to make sure the characters have that authentic feel to them. We'd be totally missing out if we didn't deliver that.
Which character has the best look in the game?
My favorite is Ana Ivanovic just because she is so pretty.
Did you make sure she looks good in the game?
Absolutely. [laughs]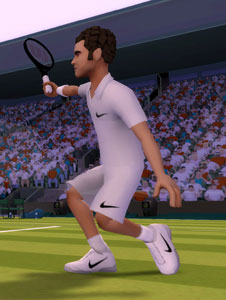 EA Sports
Development of character was key for EA Sports.
What are the different playing styles the various pros will use in the game?
There are four different playing styles: Defensive baseliner, offensive baseliner, a serve and volley style player like Sampras and an all-around player like Federer. These playing styles are really important in keeping the game true to the players who are represented and really helps add to the realism. And while I can't tell you exactly how many players are in the game just yet, as we're still trying to finalize some things, I can tell you that, between the men and women featured in the title, they've won 135 singles grand slam championships combined.
With the realism of the swings and adding spin to my shots, am I going to mess up my elbow for real?
Hopefully not. [laughs] I think you won't walk away with pain, you'll walk away with a kick-ass game of tennis. This game really puts the racquet in the palm of your hands. This is a powerful, authentic tennis experience. You can control shot placement, front to back, left to right, and when you plug in that MotionPlus, things like your racquet roll and how your wrist is orientated come into play. It takes an already authentic experience and really takes it to an even more realistic level.
What's the Grand Slam career mode going to be like?
It's all about your character's quest to win the Grand Slam championship. There will be a variety of other things to do along that journey, but we're not getting into those details just yet. We're also going to be online, so I think there's something in this game for everybody.
What other game modes can people expect?
We've got singles, doubles, mixed doubles and, when we go head-to-head, there's split-screen action, because this is such a literal, gesture-based game. My actions in real life determine what go on out on the court, so being behind yourself in the game is really where you want to be.
With the Wii MotionPlus, are you expecting that kids who play this game are going to be able to go out and improve their tennis game for real? Is it that much of a simulation?
Possibly. We have a full-fledged practice mode within the game with ball machines kicking balls to you, so you can line up and work on your serve or your wrist rotation or your top spin shot versus your sliced shot. They mimic their real-life counterparts so well we think this could become something where kids can learn to play the game of tennis through the video game. It's amazing how far technology has come.