The World's Game (According to Us)
Gartside reveals new plan for the EPL while MLS targets tweens.
by Austin Kelley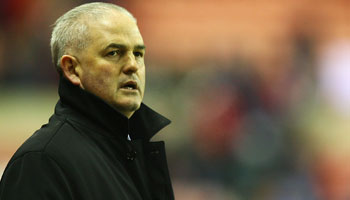 Getty Images
"Thursday: Purchase feeble cable-access show and exploit it."
Sequels, any Hollywood exec will tell you, are money in the bank. Fast & Furious, not to be confused The Fast and the Furious, 2 Fast 2 Furious, or The Fast and the Furious. Tokyo Drift has already grossed $280 million worldwide despite mediocre reviews. Sometimes, it's the name that matters, not the content.

Perhaps that's the logic driving Bolton chairman Phil Gartside to float another new plan for the English Premier League, splitting it into two tiers and introducing a lower division, "Premier League II," complete with Scottish Old Firm clubs Celtic and Rangers. The plan would give middling clubs like Bolton the chance to take comfort in the glow of "Premier" competition without worry (Gartside has suggested that no teams get relegated out of Premier II to the former First Division) and for the Scottish clubs to cash in on the huge profits of English football. But even this economic prospect presents some puzzling math. While Forbes recently reported that the values of the world's richest 25 clubs, dominated by English teams, are up eight percent, a Parliamentary report this week warned that English soccer is in danger of financial collapse. Those same big clubs, it said, have taken on too much debt.

Is the Premier League the Titanic or the movie Titanic?

Meanwhile, back in the real film biz, there is a new sequel of Green Street Hooligans. We first saw the original hooligan movie on a bus when we were writing about the Delaware Valley Infantry, a group of rowdy soccer fans. We got a bit nervous when the hooligans in the movie started beating up a guy just because he was a journalist. "Journo, Journo," they yelled. The bus full of soccer fans yelled along with them. But we escaped unscathed. Thankfully, the members of the Infantry weren't real hooligans nor an actual infantry.

Come to think of it, GSH wasn't really a hooligan movie either. Elijah Wood, more Hobbit than hooligan, played a Harvard kid struggling with his masculinity. The complicated dynamics of soccer, class and pride of place weren't really in play. Green Street II: Stand your Ground (no Elijah Wood this time) also doesn't seem like a hooligan movie. It's a prison movie with what looks like a lot of fighting and a little soccer.

One thing these movies do is make soccer seem like a tough guy's game. MLS is trying a different approach in a new marketing scheme hatched with CosmoGirl.com. On the site, young MLS players, appearing in casual off-the-field photos, answer questions about dating. Houston Dynamo's Stuart Holden is asked if guys and girls can be friends. "Absolutely!" he says. Columbus Crew's Robbie Rogers is asked if athletic girls are intimidating or attractive. "Depends on how athletic. I mean, if she could beat me up … that would be intimidating."

The site refers to the young men as "eye candy" and tells what girls can wear to catch the eye of the "playas." For Colorado's Colin Clark? "Jeans and a polo, a juicy tracksuit or a cute dress." For FC Dallas' Peri Marosevic? "A dress with the tights." For Kansas City's Chance Myers? "A sweet hat!"
For EPL players? "Whatever keeps us out of 'Premier League II.' "
EXTRA TIME