Wise guys look for a different set of characteristics for their winner
by Chad Millman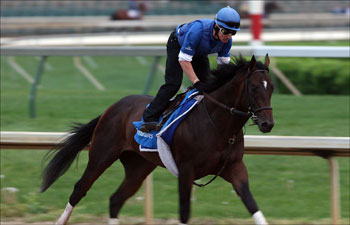 Getty Images
Desert Candy was an early wise guy horse. Is he still?
(This is an update of a piece I wrote for the May 4th issue of ESPN The Magazine).
The Kentucky Derby's post-position draw happened on Wednesday. And, as is always the case, shortly afterwards, a buzz raced around Churchill Downs. It was a low rumble at first, nothing that the squares in the mint julep crowd pick up right away. But by the time the sun set over the twin spires, the chatter was impossible to ignore. Everyone -- sharps, trainers, owners -- was talking about one thing: the wise guy horse, the pre-draw long shot us mopes didn't have on our radar until it was too late.
"You think you're hearing the scoop," says handicapper Lane Gold. "Then you get to the window, the odds are short, and you missed it."
Recognizing a wise-guy horse early is as hard as picking a Derby bonnet. That's because handicappers don't like hype (see ya, I Want Revenge). They want Thoroughbreds who look good losing prep races like the Santa Anita Derby. They eye horses who ate up the field after starting wide or made an easy transition from synthetic tracks to dirt. They look for ponies who showed muscle gain race to race and those who ran hard after several weeks' rest.
"A wise guy," says John Avello, a bookmaker at Wynn Las Vegas, "looks for a horse who can improve."

"A wise guy," says John Avello, a bookmaker at Wynn Las Vegas, "looks for a horse who can improve."
When I first wrote this piece for The Mag, which I turned in a three weeks before Wednesday's draw, I predicted these three horses had wise guy potential:
CHOCOLATE CANDY (15-1 in mid-April, currently 20-1 according to Avello): His second-place finish at Santa Anita, following a seven-week layoff, proved two things: He can run after resting, and -- by losing a high-profile prep race -- he wouldn't be overhyped.
DESERT PARTY (15-1; 15-1): He was upset in the UAE Derby by a horse he had beaten twice. The public remembers his loss, but the wise guys his wins.
PIONEEROF THE NILE (8-1; 4-1): The big favorite at Santa Anita struggled to win, so he initially got less hype than Quality Road and I Want Revenge.
You may have noticed that the odds on Pioneerof the Nile have been cut in half, from 8-1 to 4-1. Which means the wise guys took a shine to him long before the post-position draw. But, to be honest, this is one of those years with four elite horses getting everyone's attention, squares and sharps alike.
"You're not gonna get a lot of chatter about a horse that isn't in that group, which includes Pioneer, I Want Revenge, Dunkirk and Friesan Fire," Avello told me Wednesday. "We don't have a group of horses behind those top four who look like real legit contenders."
Come Derby week, the final two elements in picking a wise guy horse are how he's working out and what gate he's coming out of.
(By the way, picking a Preakness favorite is a whole different bale of hay, partially based on how horses finish in the Derby. You can see my analysis of who has the best shot at Pimlico on Insider Sunday morning.)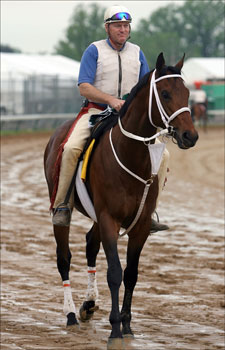 Getty Images
Meet your wise guy horse.
Well, early in the week I Want Revenge, Pioneerof the Nile and Friesan Fire were working out better than anyone. Some thought Friesan Fire, currently 6-1, might have run too fast, burning a five-furlong run in :57 4/5. "When you are running that fast you have the sense that it took something out of him," says Gold. "The Derby is longer than any horse has run, and if they need that extra surge you worry they won't have it because they burned it in the workout."
But, Gold points out, Friesan Fire's trainer is Larry Jones, Two years ago his horse Hard Spun did a five-eighths workout in :57 3/5 and then went on to finish second, behind Street Sense, in the Derby. "Every trainer has different methods," says Gold. "And clearly he knows what he's doing."
Now, as for starting position, Gold says to remember this: Churchill Downs traditionally has 14 starting gates. For the Derby, it brings out auxiliary gates and between the original 14th gate and the new 15th gate, there is a little more space than there is between gates 1-14. "That 15 position will give you a precious second or two to sort out what's happening to your inside," says Gold. "Sixteen is also okay because you can follow the horse in front of you."
Dunkirk, one of the race favorites, is coming out of gate 15. In 16 is Baffert's Pioneerof the Nile. I Want Revenge drew 13, where Smarty Jones won from in 2004, and Friesan Fire picked the sixth position. "He doesn't have a lot of speed to the inside of him," says Gold. "So he will get a clear shot to be near the front."
All the jibber-jabber means this: Pioneerof the Nile has leapfrogged from 8-1 to being the second favorite, along with Dunkirk, behind I Want Revenge. Meanwhile, Friesan Fire, with a good trainer, a strong week of training and a decent post position, is still at 6-1. "By Saturday, it's possible he could go from fourth to the favorite," says Gold.
In other words, meet Friesan Fire, your 2009 wise guy horse.
"Now," says Avello, "it's time for action."
Got a betting story for Chad? Email him.
Read more Behind the Bets.
---
Chad Millman is a Senior Deputy Editor at ESPN The Magazine, and once wrote a book called The Odds. His column takes a close look at the culture surrounding the bet.