ESPNTheMag.Com Presents: All-World Power Rankings
Who is the most intriguing athlete-turned-musician?
by Amanda Ozment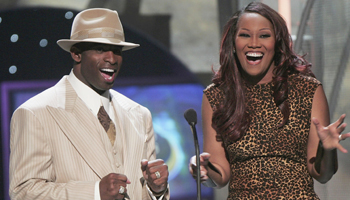 Getty Images
MOST INTRIGUING ATHLETE-TURNED-MUSICIAN? WE'LL GO NEON DEION
What is All-World Power Rankings?
National Wanna Play Music Week began yesterday with a message from Dr. Phil encouraging "anyone that [sic] has always wanted to play a musical instrument but didn't know how to get started…to take that first step." We think that's a great idea. As always, if you disagree with any of this—or think Ron Artest and/or Tony Parker (or Wayman Tisdale) need to be on here—holla at us.

HONORABLE MENTION
RANK (YESTERDAY)
WHAT
WHY
12 (404)
CARL LEWIS
Between 1984 and 1996 Carl Lewis won 10 Olympic Medals, 8 World Championships Gold Medals, and recorded his first single. Unfortunately, his only major musical performance since has been this.
28 (99)
COCO CRISP
He was just one of the ballplayer/artists featured on the 2005 album Oh Say Can You Sing and by far our favorite, namely because his song "We Got That Thang" includes edgy lyrics like "I'm like Mike Tyson, on account of all the ears I bite."
RISING AND FALLING
MOVEMENT
WHAT
OZZIE AND LOU (The next Kris Kross.)
KB24 (He cannot be happy about this.)