"It's So Hard To Say Goodbye"
Boyz II Men means a lot to this website.
by Mag.Com Staff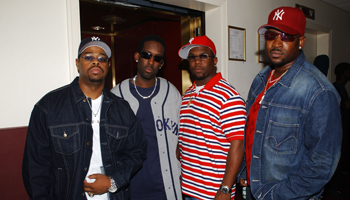 Getty Images
From left: some of the Mag.Com staff. See ya Monday, friends.
This about sums up today. Thing is, we ain't disappearing. We merging. Smart + fun = cool. On the first day (one sweet day?) of this website's existence, our boss was locked out of the office and we were desperately trying to get a pic of Devin Harris to crop properly (we were 'on bended knee,' if you will). It's been a magical ride since then, if by "magical" you mean something else that doesn't really mean "magical." (We kid.) To everyone involved -- C, S, M, D, N, S, L, S, J, E, B, S, R (we protect full names) -- keep grinding on the pay wall side. Water never runs dry content-wise, and yes, simply, thank you.
---

06.05.09