GOING GREEN
by Stephanie Bagley
When a team makes a coaching change, it hopes to light a spark. In the Caps' case, it has. Washington is 9-5-4 since Bruce Boudreau replaced Glen Hanlon behind the bench on Nov. 22, and third-year D-man Mike Green is having a breakout season.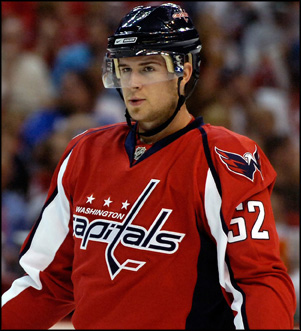 G Fiume/Getty Images
It's so easy being Green.
The 22-year-old Calgary native has tallied eight goals and 10 assists, already surpassing last season's career high of 12 points. He leads the team's blueliners in scoring. Boudreau, who just had the interim removed from his title, is the X factor behind Green's on-ice fire. "He really has a sense of confidence in us guys," Green says. Well, in one of them, anyway. Since the coaching switch, Green has scored five goals, two of them on the power play, his newfound responsibility. The kid's overall ice time has also rocketed, topping off at a Pronger-like 30:12 in a 5-2 loss to Montreal on Dec. 20.
"The sky's the limit for Mike," says Boudreau, who first saw Green's skills up close when he coached him at Hershey, Washington's AHL affiliate.
"He's as fast as anybody and can stickhandle in a phone booth." Green's 'mates agree.
"He skates so well," says C Brooks Laich.
"He gets up and gets involved. He knows when to stay back and when to join the play."
Like on Dec. 12 against the Rangers, when Green turned a Brendan Shanahan stumble in OT into a two-on-one rush that ended in a wristed winner for Green. And on Dec. 26, when Green's third-period assist lifted the Caps over the division-rival Bolts. The 6'2", 200-pounder with the faux-hawk is quick to credit his new boss: "He's given me an opportunity to play more of a role."
That would be leading man.