PLAYS THAT PAY
When the BCS Title Game kicks off, Ohio State's Jim Tressel and LSU's Les Miles will have plays ready for every situation. But when it matters, don't be shocked if the coaches put down their play cards and call these old standbys.
by Mike Kuchar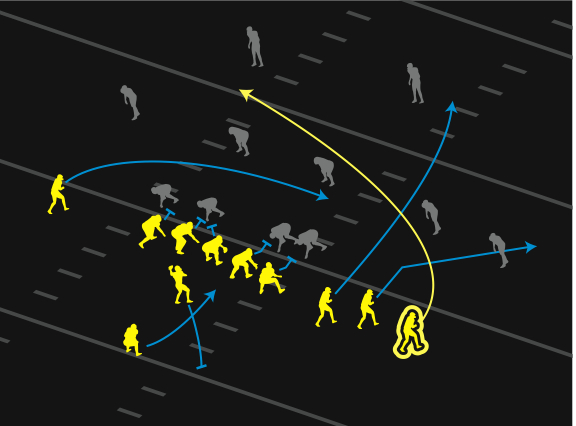 THE LSU PLAY
At the beginning of every offensive meeting, Les Miles barks his mantra: Stay balanced. And his Tigers—218.9 rushing ypg and 229.2 passing ypg—listen. But there's one play that's especially lethal to LSU's foes: WR Early Doucet's mesh crossing route. LSU uses bruising RB Jacob Hester early to set the table for play-action passes to Doucet. Hester must run low, covering his numbers, to sell the fake and pull the linebackers forward two to three yards. Then Doucet slips in behind them, usually 10 yards down the middle. When defenses counter with man coverage, Doucet uses his 4.5 speed to outrun the cornerback horizontally. Against a zone, he settles in between the linebackers and safeties and waits for QB Matt Flynn to find him. If defenses start collapsing to stop Doucet's route, Flynn hits WR Demetrius Byrd on a crossing pattern a few yards deeper than Doucet. Says LSU WR coach D.J. McCarthy, "The defense can never be right."

HOW LOUISIANA TECH STOPPED THE MESH CROSS
If any coach knows how to defend Doucet, it's LaTech's Derek Dooley. As part of Nick Saban's staff at LSU from 2000 to 2004, Dooley helped land Doucet. When the Bulldogs visited Baton Rouge on Nov. 10, Dooley had an inside linebacker smack the 6'1", 217-pound senior wideout at the line. "He's too physical to bump with defensive backs," Dooley says. The goal: disrupt Doucet's route, then have a cornerback trail him. The plan worked & sort of. Doucet finished with just three catches for 22 yards, but Hester & Co. ran for 321 yards as LSU turned a 27-7 game at the half into a 58-10 romp.
WHY MISSISSIPPI STATE DIDN'T STOP IT
Nobody knew which LSU offense to expect in the Aug. 30 season opener. Would it be new coordinator Gary Crowton's pass-happy spread or Miles' run/pass power sets? Mississippi State D-coordinator Ellis Johnson found the answer—both—the hard way. Johnson opened in nickel sets, and as he expected, LSU started out with four wideouts. But Crowton still called a barrage of tough inside runs to Hester (10 first-half carries for 44 yards). After struggling to stop Hester, MSU stacked eight men in the box. Crowton responded with plenty of mesh crossing routes to Doucet, who finished with a career-high nine catches for 78 yards in LSU's 45-0 win. Johnson's lesson? "The only way to stop an offense that balanced is constant change," he says. "Never call the same scheme twice in one series."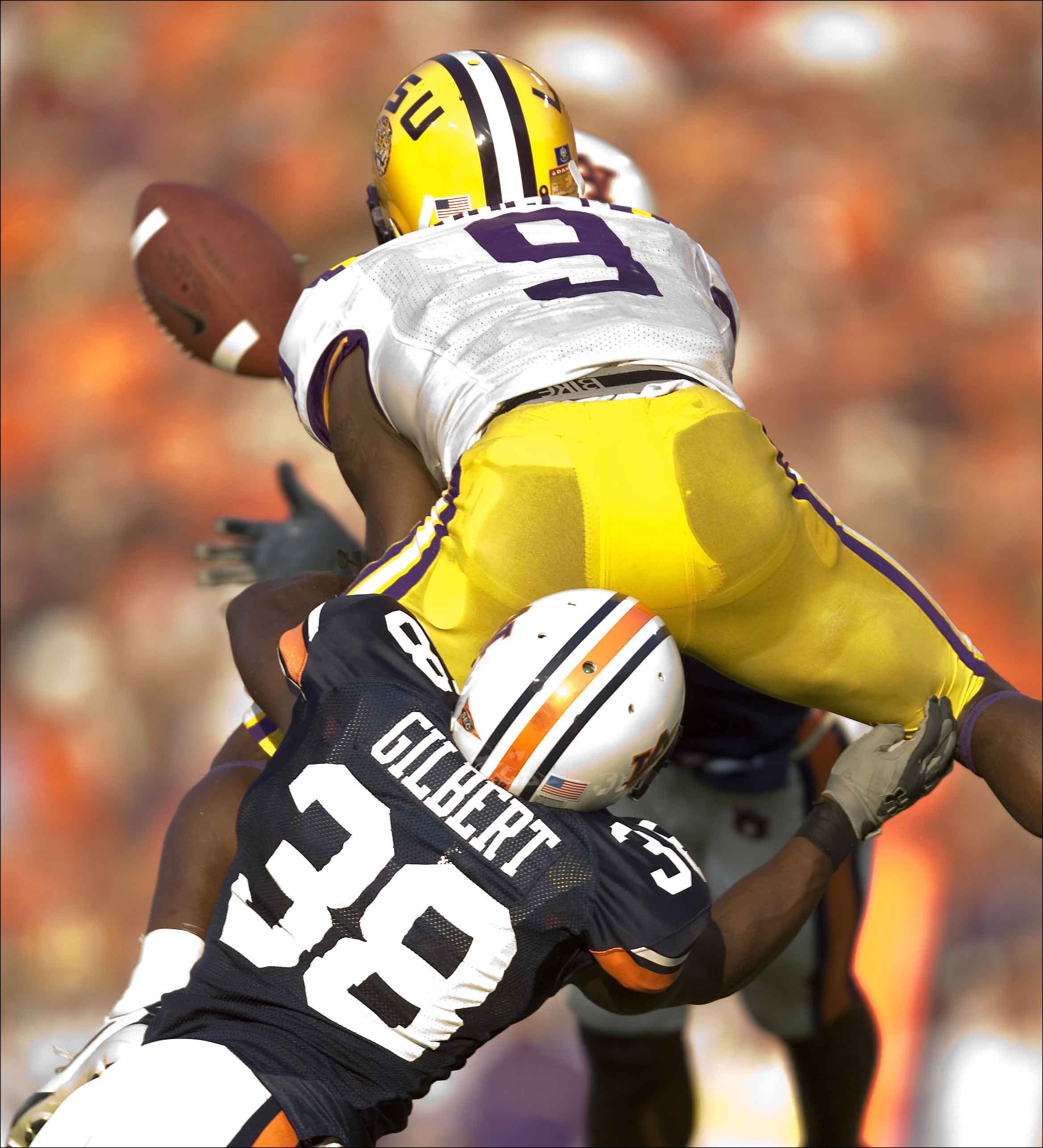 Wesley Hitt/Getty Images
Will LSU wreak havoc through the air?
HOW OSU COULD STOP IT
LSU moves Doucet all over the field—from the slot, to flanker, to split end, even to running back. But it's when he's lined up on the far side of three-wideout sets that the Buckeyes need to look out for the mesh. Ohio State could counter with mostly zone coverages and a spy at the line. The key is to bump Doucet at the snap to disrupt what is basically a timing pattern. LB James Laurinaitis will be invaluable in coverage here. He should be deeper than usual, so he's always moving forward. If Doucet catches it, Laurinaitis blasts him. If it's a run play, the Butkus Award winner gets a little bit more of a running start. And it will help if OSU can pressure Flynn without sending extra rushers.
OPPOSING VIEWS
Auburn SS Eric Brock watched Doucet haul in seven catches for 93 yards in an Auburn 30-24 loss on Oct. 20."We knew he was coming off a groin injury, so we tried to rough him up and let him know it was going to be a tough night. It was frustrating for him when I'd come over and double him with a cornerback. But the thing about Doucet is that he attacks the game. We popped him, and he got up and smiled at us."
Ole Miss CB Dustin Mouzon helped limit Doucet to eight catches for 58 yards on Nov. 17, but LSU won, 41-24."What makes that play work is the other receivers. I was on Demetrius Byrd a lot, and he can flat out run. He could beat me and my safety help at the same time. I told the coaches, 'I've got to play off that guy.' He's that fast."
Virginia Tech CB Brandon Flowers and the Hokies were torched by Doucet for six catches, 75 yards and a TD in a 48-7 VaTech loss on Sept. 8.
"We got embarrassed in that game. On those crossing routes, we were rolling coverage toward Doucet early. But after halftime they put in backup QB Ryan Perrilloux, and we started watching for the QB sweep. Next thing you know, Doucet was in the end zone on a 34-yard TD catch. There was nothing we could do."



---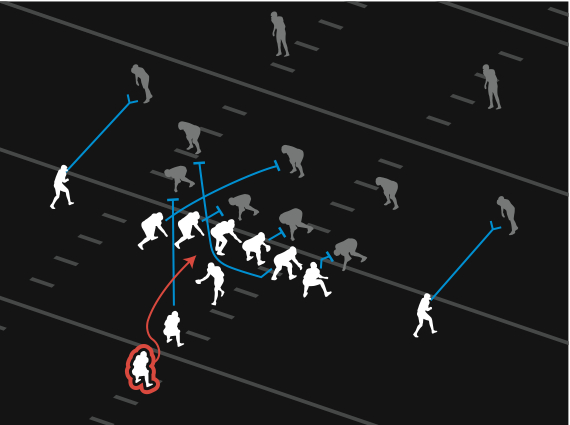 THE OHIO STATE PLAY
Ohio State's staple set—the power O—hasn't changed much since Woody Hayes installed it 50 years ago. And the specific call, power play left, is as simple as it sounds. From an I formation, 235-pound running back Chris Wells takes the handoff and follows 242-pound fullback Dionte Johnson. Johnson smashes the end man on the defensive line, as monstrous left tackle Alex Boone (6'8", 313) blasts the defensive tackle out of the way. Meanwhile, right guard Ben Person flies from the weak side, chipping the defensive tackle, if necessary, on his way to the play-side linebacker. Tight end Rory Nicol must get a hard inside release on the middle linebacker. Although the play is designed for off tackle, Wells likes to bust up the middle. "We'll come straight at you," says Dick Tressel, the Buckeyes running backs coach. "And we'll continue to wear you down until we pop one."

HOW ILLINOIS STOPPED POWER PLAY LEFT
To keep Wells from the end zone, the Illini focused on containing him in the tackle box. "You don't ever stop them," says Illini D-coordinator Curt Mallory. "We just tried to keep them in front of us." Mallory mixed up four- and five-man fronts and had linebackers play an up technique: two yards off the line in order to hit the natural gaps created by the power scheme. The result: Wells rushed for 76 yards on 20 carries, with 12 of his runs ending in the arms of middle linebacker J Leman. Of course, it didn't hurt that Illini QB Juice Williams squeezed the clock for 33 minutes.
WHY PURDUE DIDN'T STOP IT
In five previous seasons as Purdue defensive coordinator, Brock Spack was 1-4 against power play left and thoroughly stumped. So this year he altered his scheme every series to keep Ohio State guessing. First, he slanted the entire D-line toward the strong side, but Wells ran for 17 yards on consecutive up-the-gut carries. Then backup Maurice Wells (no relation) bounced the play outside for 20. Next, Spack tried overshifting his linebackers and stacking a safety on the tight end. Well, Spack's now 1-5, and still baffled. Chris Wells thundered, and Maurice Wells lightninged, and Purdue struggled with personnel changes. On the day, the Wells boys combined for 159 yards in a 23-7 OSU win. "Chris Wells would hug the A gap so tightly that we overran it," Spack says. "Just when we started to be a bit more cautious, the other kid would bounce it outside."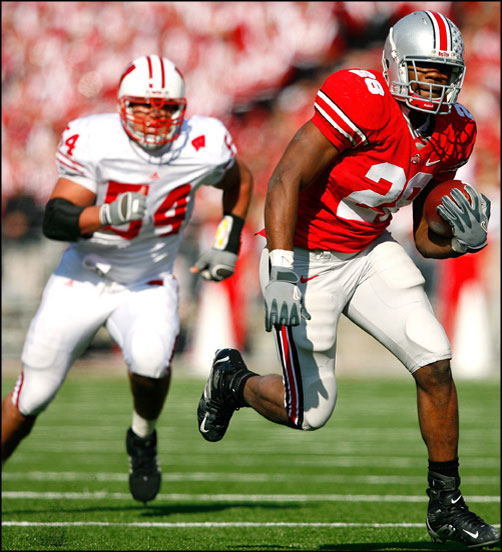 Joe Robbins/Getty Images
&hellip or will OSU run all over the Tigers?
HOW LSU COULD STOP IT
Identify, pursue and tackle. Sounds simple, huh? Except Jim Tressel's one of the nation's best play-callers, and opposing coaches rarely pin down which dozen or so plays will be the power. "Tressel is so unpredictable that you never get good tendencies," says Northwestern linebackers coach Randy Bates. "You just have to tackle and not give up big plays." One edge for the Tigers: They have better speed than any defense Ohio State has faced, which means they may be able to chase from the back side if either Wells waits for a hole. And if defensive end Kirston Pittman attacks Johnson's inside shoulder, the play bounces outside to hard-hitting strong safety Craig Steltz. Another wild card is linebacker Ali Highsmith blitzing the gap created by the pulling guard.
OPPOSING VIEWS
Youngstown State LB James Terry, who helped hold Wells to 46 yards on 16 carries in a 38-6 OSU win on Sept. 1."Oh man, we saw that play 10-15 times. It's made for Chris Wells. He's a big, powerful back who you don't want running downhill. We had guys spilling the gaps to make Wells move more east/west and give our linebackers more time to get over there."
Penn State LB Dan Connor, who saw Wells gain 133 yards on 25 carries in a 37-17 PSU loss on Oct. 27."That play has been around forever. You just fill the gap and cut down the fullback so the backside linebacker can make the play. You can also key the guard, Ben Person, and follow him to get two guys at the point of attack. With their line, though, they're tough guys who get after you. And with a big back, it wears on a defense. That's what happened to us."
Michigan safety Brandent Englemon, who stuggled on run defense as Wells ran for 222 yards in Ohio State's 14-3 win on Nov. 17."Any time you have a great running back like that, it's up to everybody on the defense to stop him. You have to get 11 guys to the ball, hitting him every play, every chance you get."