NOW YOU SEE HIM …
If you're lucky, that is. Ilya Kovalchuk performs his magic in puck-shrugging Atlanta. But catch his act, and you'll agree—he's the greatest show on ice.
by Eddie Matz

Thirty minutes after the final horn, Ilya Kovalchuk emerges from the Thrashers' locker room. Dressed in a slick gray suit and brown something-skin shoes, he's ready to talk, which, for a stone-faced sniper like Kovalchuk, is saying something. He is prepared to explain to the media horde how his league-leading 28th goal helped his underdog team to a thrilling, 3-2, Dec. 20 win over the East-leading Senators. But alas, the game was played in Atlanta, not Ottawa. Or Detroit. Or any number of NHL cities that actually care about hockey. As such, the horde consists of two notepads and a tape recorder.
Later that night, the top sports stories on the four local newscasts feature Santas running a 5K in Belgium and a local prep football coach deciding to stay at his current school. SportsCenter doesn't acknowledge the game or Kovalchuk. Its lead puck story? Sidney Crosby's first fight. Atlanta will host the NHL's best and brightest during All-Star Weekend, Jan. 26-27, but Atlanta's best and brightest is a forgotten man having a season for the ages.
Not that it bothers him.
"I'm not that kind of guy who wants to be on front page," says Kovalchuk, 24, forsaking the occasional definite article as he sits in a café the next day. He is 6'1'', 220 pounds and speaks without smiling in a thick Russian accent. Which makes sense. Despite five seasons in the U.S., English is still work. And he never smiles. Maybe it's because of that caterpillar-size scar above his lip, courtesy of a high stick a couple of years ago that required 20 stitches. Maybe it's because he lost his father in July 2005, and like most sons who have recently lost their father, he's forgotten how to smile. Maybe it's because he's a stranger in a strange land whose favorite TV channels are the eight Russian ones he gets via satellite, and who, after the 82-game season, gets the hell out of Dodge to spend the summer in Moscow and St. Tropez. Whatever the case, he never smiles.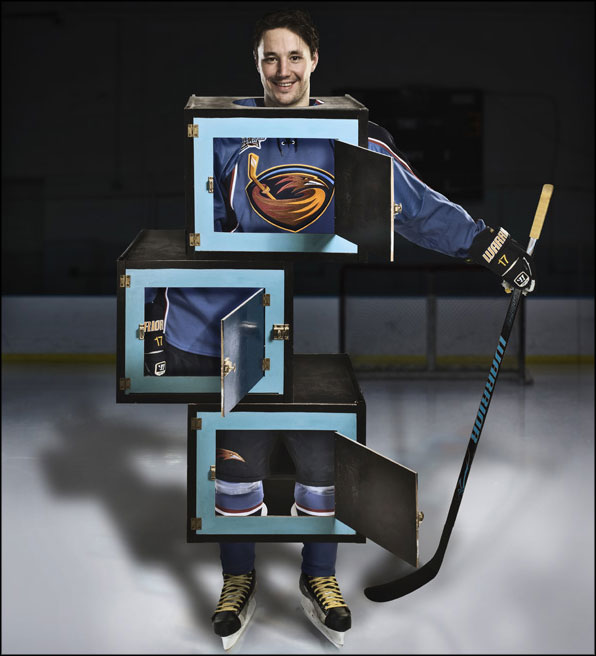 Loreffrey
Fear not, Thrasher fans, this won't result in any time on IR.
Except when he scores a goal. Like after his second-period equalizer against Ottawa in December, when Kovalchuk flashes his pearly off-whites and pumps his fist repeatedly as he skates behind the goal to pound the glass with both gloves, like a caged animal trying to escape. As Atlanta center Todd White says, "He's one of the top five celebrators in the game." Not in a premeditated, self-aggrandizing kind of way, but rather in a knee-jerk, can't-help-himself kind of way. Says Atlanta GM-turned-coach Don Waddell, "He just loves to score goals."
Which he's done all his life. Growing up two hours north of Moscow in a city called Tver, little Ilya got his jollies firing wristers—not slap shots, like most kids—at rubber targets that his father, Valeri, a former pro basketball player, had mounted on the side of the family home. "Wrist shot you can shoot quicker," Kovalchuk says. "It's more dangerous." Especially the way Valeri taught his son to paint the corners. Better to miss the net than to hit the goalie in the belly, the elder Kovalchuk would preach. The result? A sniper with a semiautomatic trigger and deadly accuracy. Not to mention terminal velocity. "He's got the hardest shot in the league," says Blues center Keith Tkachuk. "He lets that bomb go, and nobody can stop it."
It certainly seems that way. In 2001, Kovalchuk became the first Russian drafted No. 1 overall, and in the past five seasons he has scored more goals than any player, many of them highlight-reel quality. Take No. 235, on Jan. 2, during a 5-4 OT win at division-leading Carolina. On a first-period power play, Kovalchuk corrals the puck behind his own net, charges up the left side across center ice, splits two Canes at the blue line, then eluding a third before firing a glove-side laser past goalie Cam Ward and into the top corner. "He has the potential to do that every shift," says Carolina blueliner Mike Commodore, who, after failing to stop Kovalchuk, had a great view of his coast-to-coast assault. "To have his size and speed and be able to move north-south, east-west with the puck as if he doesn't have the puck? I mean, Jesus." And yet it's the other two, more recent No. 1's who get all the pub.
Type in the names Sidney Crosby and Alexander Ovechkin on YouTube, and you'll get roughly 1,000 results for each, compared with slightly more than 300 for Kovalchuk—even though he's been in the league twice as long and, as teammate Garnet Exelby says, "controls the puck like a video game." Had Kovalchuk come along in 2005 like the postlockout poster boys, perhaps things would be different. But he didn't, and they aren't. Thrashers captain Bobby Holik puts it this way: "If the NHL decided that Kovy was going to be one of their marketing guys, then you'd see him everywhere. But somebody in the ivory tower decided that somebody else was going to be their guy."
"TO HAVE HIS SIZE AND SPEED AND BE ABLE TO MOVE NORTH-SOUTH, EAST-WEST WITH THE PUCK AS IF HE DOESN'T HAVE THE PUCK? I MEAN, JESUS."

Then again, the ivory-tower folks might require that their appointees make an effort to play both ways. Saying Kovalchuk has been accused of not playing D is akin to saying that water has been accused of not being dry. "In the past, all Kovy was concerned about was scoring goals," says Exelby. "He didn't accept responsibility to pick up assignments in the defensive zone. Now he's more mature." Losing his father, having a daughter (Carolina, now 2) and getting married (to Nicole Ambrazaitis, a former pop star—think a blond Beyoncé) will do that.
His interim coach has noticed. "People always thought he was selfish," Waddell says. "He's doing all the things that get the respect of his teammates. Against Ottawa he lay down to block a shot. He's dumping the puck at critical times. Instead of trying to beat a guy at center ice, he's making the smart play. I can play him in any situation now."
Says Kovalchuk, "I want to be the winner, not the goal scorer." For him, this is major progress. In a world where W's are the bottom line, the young vet finally got the memo. Credit Atlanta's first-ever playoff appearance last spring. "Before, I didn't understand why everyone wanted to be in playoffs so badly," Kovalchuk says. "Now I know what it feels like." He knows what it's like to play do-or-die games in front of sellout crowds and what it's like to be swept. And he wants another shot.
"That was tough," says Kovalchuk of last April's four-game schooling, in which the Thrashers managed just six goals against the Rangers. So tough that the following week he had a half-hour sit-down with Waddell. Get me a center, he told his boss. And on the very first day of the free agent signing period, Waddell inked White, a solid vet who'd been to the playoffs five of the past six seasons. Then, six games—and six losses—into this season, Waddell axed coach Bob Hartley and took the reins himself. Right away, he paired Kovalchuk and White with three-time All-Star forward Marian Hossa on the top line. Since then, the team has gone 21–16–2 and is back in the playoff picture. "When you play with guys like that," says Kovalchuk, "it makes game so much easier." How easy?
Through 45 games, his 36 markers is tops in the NHL, and he's on pace to become the league's first 60-goal scorer since Mario Lemieux 12 years ago. Even more impressive, Kovalchuk—who's driving the net more and relying less on his lethal wrister—is connecting on 20.9% of his shots, 6.2% higher than his career rate. The sniper is single-handedly keeping his defensively challenged squad (28th in penalty killing, ditto in goals allowed) in the playoff hunt. He even made the All-Star team—something he's done just once before—in his home rink, to boot.
Maybe that will make him the top story on the local news.