POWER MOVE
by Stephanie Bagley
Still hungry to fill the void left by the 2006 Todd Bertuzzi trade, Vancouver started this season looking to C Ryan Kesler for power-forward numbers. It made sense. The 23-year-old native of Livonia, Mich., has the size (6'2'', 205) and game (he scored 30 goals with Manitoba in 2004-05) for the role.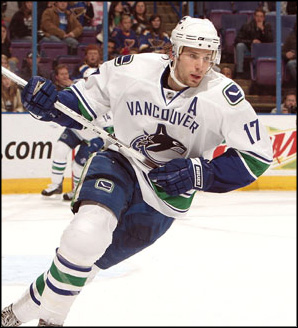 Mark Buckner/Getty Images
Kesler is blossoming into a great two-way player.
Problem is, you don't become that kind of a force overnight. Even Bertuzzi needed six seasons to crack the 20-goal mark. After scoring just three goals in his first 20 games, Kesler felt the heat of the team's expectations. "There was a lot of pressure on him to put points on the board," says linemate Matt Cooke.
Enter coach Alain Vigneault. He moved Kesler back to his customary checking line, and the results were immediate. Kesler now has 12 goals, plus he's used his relentless speed on the forecheck to become a shutdown center. Just ask Sidney Crosby, who was pointless in the Pens' only game against Vancouver. Or Ryan Getzlaf of rival Anaheim, who's been held to one point in three matchups this season. That's production by subtraction.
"Being on the defensive line, you're playing against other teams' top lines," says Kesler. "You get offensive opportunities."
He also makes the most of his opportunities on the draw (54.9%, eighth in the league). That kind of puck control will be a factor down the stretch in the vise-tight Northwest, where three points separate the top four teams.
Kesler's two-way play has created some Selke buzz for the fourth-year pivot. Linemate Alex Burrows thinks it's deserved: "Speed, grit, competing hard—those three things combined make him a great candidate."
It's a powerful argument.