GameNight Spring Training Cheat Sheet
Can the Phillies repeat as NL East champs or will the Mets take back the crown? Find out in our MLB season preview. Cheat Sheet
Updated:
April 2, 2008, 1:46 PM ET
ESPNRadio.com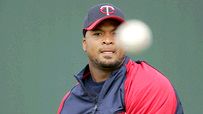 AP Photo/Steven SenneThe Twins are hoping Francisco Liriano comes back strong in 2008.
It's 30 teams in 30 nights as
GameNight
gets you set for the 2008 MLB season. In our "Cheat Sheets," hear what Michael Cuddyer says what the Twins are missing without Johan Santana and Rich Aurilia describe life in San Francisco without Barry Bonds. And we're just getting warmed up.
Listen every night from 10 p.m. to 1 a.m. ET as GameNight gets you set for another baseball season.
GameNight's Spring Training "Cheat Sheet"
Date
Team
Guest
Audio
Feb. 29
Twins
RF Michael Cuddyer
Listen
Mar. 1
Cardinals
Rick Hummell, St. Louis Post-Dispatch
Listen
Mar. 2
Pirates
SS Jack Wilson
Listen
Mar. 3
A's
Manager Bob Geren
Listen
Mar. 4
Padres
Manager Bud Black
Listen
Mar. 5
Mets
Hitting coach Howard Johnson
Listen
Mar. 6
Tigers
Jason Beck, MLB.com
Listen
Mar. 7
Giants
1B/3B Rich Aurilia
Listen
Mar. 8
Angels
Manager Mike Scioscia
Listen
Mar. 9
Rays
GM Gerry Hunsicker
Listen
Mar. 10
Orioles
Manager Dave Trembley
Listen
Mar. 11
Marlins
Evan Cohen, ESPN Radio 760 in South Florida
Listen
Mar. 12
Blue Jays
Assistant GM Alex Anthopoulos
Listen
Mar. 13
Dodgers
OF Andre Ethier
Listen
Mar. 14
Yankees
Andrew Marchand, 1050 ESPN Radio in New York
Listen
Mar. 15
Reds
Reds broadcaster George Grande
Listen
Mar. 16
White Sox
Bruce Levine, ESPN 1000 in Chicago
Listen
Mar. 17
Mariners
Manager John McLaren
Listen
Mar. 18
Nationals
Team president Stan Kasten
Listen
Mar. 19
Brewers
Tom Haudricourt, Milwaukee Journal Sentinel
Listen
Mar. 20
Rangers
GM Jon Daniels
Listen
Mar. 21
Braves
David O'Brien, Atlanta Journal-Constitution
Listen
Mar. 22
Royals
Manager Trey Hillman
Listen
Mar. 23
Astros
Catcher Brad Ausmus
Listen
Mar. 24
Cubs
Pitcher Ryan Dempster
Listen
Mar. 25
Phillies
Broadcaster Tom McCarthy
Listen
Mar. 26
Indians
Broadcaster Tom Hamilton
Listen
Mar. 27
Diamondbacks
OF Eric Byrnes
Listen
Mar. 28
Rockies
Broadcaster Drew Goodman
Listen
Mar. 29
Red Sox
Mike Salk, 890 ESPN in Boston
Listen
MOST SENT STORIES ON ESPN.COM