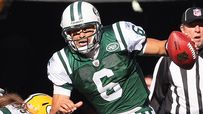 Jim McIsaac/Getty ImagesColin likes the Jets this weekend.
Each week, Colin Cowherd will make five picks for the weekend in college football and the National Football League. Check out this week's picks. Picks
Tune in every Friday at 12:05 p.m. ET throughout the football season as Colin makes his picks.
ESPN_Colin Colin Cowherd
Rajon Rondo has agreed to a one year deal to disrupt the Kings.
about 13 hours ago

ESPN_Colin Colin Cowherd
One of coolest sports pieces I have ever seen is the "Go Pro" story on HBO's real sports. Video is sick.
about 15 hours ago

jcrasnick Jerry Crasnick
Also on http://t.co/oxlrUIGO6s: Why managing in MLB today might be harder than ever. http://t.co/VpDlgWE0Qx
about 15 hours ago

Debaettner Rep. Padmore (R), IA
The Book "You Herd Me!" by @ESPN_Colin is the book of truth in regards to professional and collegiate athletics. #PickItUp #WorthTheMoney
about 17 hours ago

ESPN_Colin Colin Cowherd
Happy 4th weekend. 🇺🇸😎🍺 To all.
1 day ago

thunderthorn321 Matty Thunder
@ESPN_Colin what the crap is ur problem w/ Jim? It burn me up you. U thinks ur so smartest. NEWSPAPER ALERT! U aint. Get good, geneyus! #RTR
1 day ago

ESPN_Colin Colin Cowherd
Today's podcast- it's wacky and offbeat, but not nearly as awkward as yesterdayhttp://es.pn/1HyRbnr
1 day ago

chrisPmad Chris Madsen
Harbs hung-up on Cowherd, not the otherway around. Weird that the media, of all people, would spin that. @CoachJim4UM @ESPN_Colin
1 day ago

Blake_D3 Blake Dickerson
@ESPN_Colin if Oklahoma City gets Rondo hahahahaha best call ever
1 day ago

amenasche Alex Menasche
I honestly think @ESPN_Colin is the worst radio host of all time. He makes me sick.
1 day ago

Lowball95 Chris Robar
"Shareef Abdur-Rahim scored over 15,000 points and I can't remember two of them." - @ESPN_Colin @TheHerd
1 day ago

Scotty_Moose Scott Messina
LOVE that ESPN and @ESPN_Colin are showing the Harbaugh interview for the 'yesterday on The Herd' bit. Too funny and painful
1 day ago

byronbatzc Byron Batz
@ESPN_Colin "I put a tourniquet on that interview, cause both of us were bleeding to death on the air"-Colin. Hilarious!
2 days ago

Wallygoblue Wally Stenson
@ESPN_Colin I thought your interview was very unprofessional. Your not @MitchAlbom not even on his level. #GoBlue @CoachJim4UM
2 days ago

__siro_ Ben
@POTUS will you #ProtestESPN for how @ESPN_Colin treated @CoachJim4UM? #AskPOTUS
2 days ago

BrianRea74 Brian Rea
@ESPN_Colin Detroit radio killin Colin. Love homers protecting at all cost. #ratingsforeveryone
2 days ago

Chitownbuckeye5 Chase is Complete
Harbaugh not amused with Colin Cowherd's questions http://t.co/fvWvRG1ifb  i hate harbaugh but @ESPN_Colin is a jackass and was out of line
2 days ago

ronbarry21 Ron Barry
Usually a @ESPN_Colin fan, but Cowherd was way off-base with his Jim Harbaugh interview this morning. #badform #itsnotabouttheinterviewer
2 days ago

ESPN_Colin Colin Cowherd
Today's podcast including the most awkward interview I've ever done. http://t.co/A0iJwAZ70R
2 days ago

TedMillerRK Ted Miller
While folks like to snit at media, I like how @ESPN_Colin dismissed Harbaugh. "Don't want to play along? Bye bye" http://t.co/TaModdfm2w
2 days ago
INSIDER - SIGN UP TODAY!
Listen to The Herd with Colin Cowherd -- commercial free, either streaming or as a podcast!
The Herd with Colin Cowherd
Fri. 7/3 (2 Segments)
HERD MILE CHALLENGE
After a month of talk, Colin Cowherd attempted to break 6:30 in the mile in the pouring rain. Could he do it? Rece Davis and Herm Edwards had the call. Check out the video and photos. Watch the video

| Photo gallery

AUDIO HIGHLIGHTS
Tom Penn, ESPN NBA Front Office Insider
Play Podcast ESPN NBA front office Insider Tom Penn shares his thoughts on why NBA teams have been able to retain their own free agents at a higher rate than ever before. Plus, why Pat Riley may pursue a sign-and-trade for LaMarcus Aldridge.
Tom Haberstroh, ESPN NBA Insider
Play Podcast ESPN NBA Insider Tom Haberstroh discusses the success of small market NBA teams in signing high profile free agents. Plus, how Greg Monroe can turn the Bucks into a contender and how much help it will take for Carmelo Anthony to the get the Knicks back into the playoffs.
PHOTO GALLERIES
Check out the highlights of our great visit to ESPN The Weekend.

The Herd's Rose Bowl adventure. Check it out!
PODCASTS
Listen to a daily dose of the greatest rants, the wackiest moments and more from The Herd with Colin Cowherd.
HERD HOOPS CHALLENGE
Colin challenged Bruce Bowen to a game of one-on-one. Was Colin able to pull out a win? Or did the defensive specialist prevail? Photos

BEST OF HERD ON ESPN RADIO: 'BLAZING FIVE' FOOTBALL PICKS