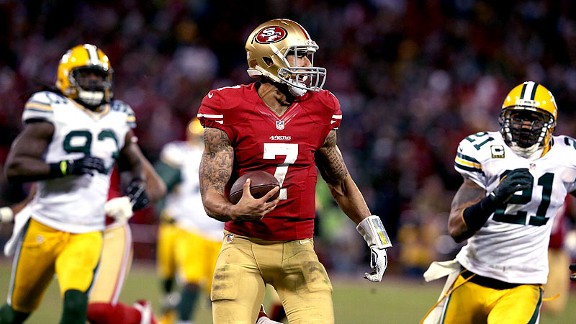 Stephen Dunn/Getty ImagesColin Kaepernick and the 49ers ran away from the Packers and into the NFC Championship Game.
Bobby V is back just in time for a big Saturday in the NFL Playoffs! Did this latest loss hurt Peyton Manning's legacy? Plus why Colin Kaepernick put the quarterback debate in San Fran to rest. Here's the best from this week's show!
49ers Safety Donte Whitner joins the show after the win over the Packers and talks about slowing down Green Bay's offense. Plus why Kaepernick gives opposing defensive coordinators nightmares. Listen

The AP's Antonio Gonzalez talks about Kaepernick's big night and why it's Super Bowl or bust in San Francisco. Listen

Denver Post Writer Mike Klis says this loss will hurt Peyton and the Broncos but they overachieved this year. Plus why this team reminds him of the 1996 Broncos lead by John Elway. Listen

ESPN AFC West Blogger Bill Williamson talks about Peyton Manning's legacy after another disappointing playoff exit. Listen

Bobby V - CHI +3, MIA -7, HOU -10, DEN -3, ARI +6 TB +4
Steven X. Ceruti - CLE +1
Steve Jung "At Heart" - BAL +3
Neil "Action" Jackson - BUF +6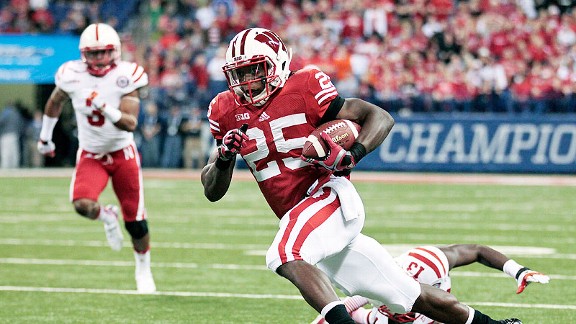 AP Photo/Michael ConroyWisconsin RB Melvin Gordon helped the Badgers reach their third straight Rose Bowl
This week's show features Bobby V breaking down the SEC title game, the Badgers running wild over the Cornhuskers, as well as what to do in wake of the tragedy in Kansas City.
Wisconsin RB Melvin Gordon talks about rushing for over 200 yards in the Big Ten title game sending the Badgers to their third straight Rose Bowl. Listen

NC State HC Mark Gottfried talks about the start of the season for the Wolfpack who have high expectations, conference realignment, and the legacy of Bobby's brother Jim Valvano. Listen

Associated Press Chiefs Writer David Skretta talks about the tragedy in Kansas City and the implications on Sunday's game against Carolina. Listen

ESPN.com SEC Blogger Edward Aschoff was at the SEC title game as talks about the amazing game and heartbreaking finish for the Bulldogs who may now not make a BCS Bowl. Listen

Bobby V - MIA +9, DAL -10, DEN - 9, HOU -7, CLE -1
Steven X Ceruti - IND +6
Steve "Jung at Heart" - CIN -1
Neil "Action" Jackson - OAK +1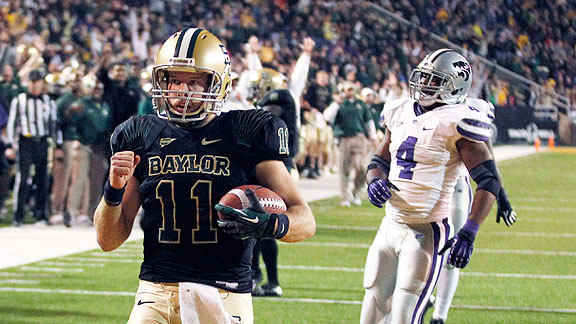 AP Photo/LM OteroQB Nick Florence and the Baylor Bears ended the title hopes of Kansas State.
Bobby V discusses the crazy Saturday in college football where both No. 1 and No. 2 go down. Listen to the best of the show below!
Baylor QB Nick Florence discusses the Bears' upset win over No. 1 Kansas State, ending their national title hopes. Listen

ESPN.com senior college football writer Ivan Maisel says he never expected Baylor's defense to give Kansas State so much trouble. Plus, he weighs in on the potential move to the Big Ten for Maryland and Rutgers. Listen

WeAreSC blogger Garry Paskwietz says USC's loss to UCLA continues their season of disappointment and comments on the dreaded vote of confidence coach Lane Kiffin received. Listen

Cory Giger of ESPN Radio 1450 in State College weighs in on Penn State coach Bill O'Brien and his uncertain future at the school. Listen

ESPNBoston.com's Mike Reiss previews Colts-Patriots. Reiss says the Patriots should win but their defense will give up yards and points to Colts QB Andrew Luck. Listen

ESPN Sports Business Analyst Rick Horrow tells Bobby just how bad the Marlins trade was for the city or Miami. Plus, will the Panthers wind up in Los Angeles? And will the NHL lockout ever end? Listen

BLIND STAB PICKS
Bobby V - DEN -9, NE +10, DET +3, NO +5, STL +4
Steven X Ceruti - CLE +9
Steve "Jung at Heart" - KC +4
Neil "Action" Jackson - SD +9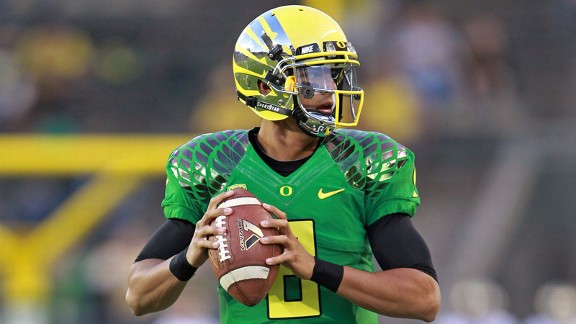 AP Photo/Tom HauckWith Alabama going down Oregon and QB Marcus Mariota take advantage
Bobby V breaks tells us why Alabama's loss at home to Texas A&M wasn't the huge upset everyone believes it was. Plus Phil Jackson's potential return to the Lakers and advice on the week 10 lines in the NFL.
Oregon QB Marcus Mariota joins the show after the Ducks huge 59 - 17 win at Cal. Mariota discusses his teams high powered offense and what the reaction was when the Ducks found out Alabama was beaten. Listen

ESPN.com CFB Reporter Travis Haney joins Bobby V after Alabama's loss at home to Texas A&M. He and Bobby V discuss the SEC being shutout of the national title game as well as Johnny Manziel's Heisman chances. Listen

Joe Fortenbaugh of the Nation Football Post helps us break down the week 10 NFL lines. He tells you what games he likes and which ones you should stay away from. Listen