Share your complaints about NBA refs
Updated:
April 16, 2009, 10:44 AM ET
The Herd at ESPNRadio.com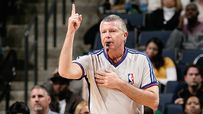 Joe Murphy/NBAE/Getty ImagesGot a complaint for the refs?
The NBA playoffs are getting underway, and we at the Herd are preparing for the refs to be blamed for everything. We've come up with a way to make things easier for NBA fans who want to e-mail us to complain about the refs.
When e-mailing the show throughout the NBA playoffs, please copy and paste the letter below.
Herd ...
Love the show! I'm a huge fan of the (insert favorite team). In last night's game against the (insert opponent), I couldn't believe the bad calls from the refs! Especially that guy (insert ref of choice).... he's had something against us all year long! (Insert best player's name) was being picked on and it cost us the game! The (insert favorite team) just can't get a break and probably won't win because of it! Call out (insert ref) or I'm never listening again! Thanks bro!
Signed,
(Insert your name)
(Insert your city)
Thanks for listening and we hope to hear from you during the playoffs! Enjoy the games!
Listen or watch The Herd with Colin Cowherd every day from 10 a.m. to 2 p.m. ET on ESPN Radio, ESPNRadio.com and ESPNU.
MOST SENT STORIES ON ESPN.COM