Commentary
Championship, he wrote
Updated:
June 17, 2009, 1:27 PM ET
By
Jason Smith
| AllNight on ESPNRadio.com
As a child of the 1970s and '80s television, I would oddly find myself drawn to "Murder, She Wrote." Maybe it was because my grandmother always commandeered the television at 8 p.m. on Sundays after I watched football for seven hours, but it was always fascinating to me to watch a show for 45 minutes, have no idea who the killer was, then have Angela Lansbury coolly recap it in the final 15 minutes by answering all the questions leftover by the police.
With the Lakers' 15th world championship in their rear-view mirror, and a throng of fans sitting outside my studio at L.A. Live wearing so much purple it looks like a Prince concert, I'm ready to go all Jessica Fletcher on you and react to all the burning questions surrounding Los Angeles' defeat of the Orlando Magic in the NBA Finals.
[+] Enlarge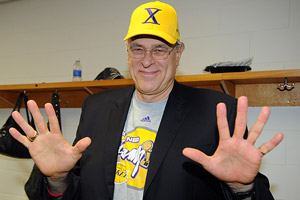 Andrew D. Bernstein/NBAE/Getty ImagesJason wants Phil Jackson's hat.
Where can I get Phil Jackson's hat? I assume that'll be widely available on eBay any day now. But the hat itself was really significant. Sure, he downplayed his passing Red Auerbach for most titles as a head coach, but you can see how much it means to him to wear that hat with the big X on it (for which, come to think of it, I think he owes Spike Lee some royalty money). Sometimes the math is that easy. He's got X, Red has IX. Red won with a roster full of Hall of Famers, so has Phil. But it's much harder to win in the playoffs now compared to the salad days of the Celtics -- when I think all you had to do was win your division and get voted the best team by the fans. You play more rounds in the playoffs now, which carries a greater chance of upset, and your players turn over due to free agency, whereas the only time the Celtics lost people was when they retired. Phil gets this.
So does Phil stay? I'm going to put Jackson's return at 50/50. True, he has a season and $14 million left on his contract, which it would be pretty easy to just show up and collect. But he was a different guy this postseason. Gone was the funny pregame repartee between he and the reporters. He looked spent. I don't know how much fun he had -- yes, he was all smiles afterward about his accomplishment, but I can't shake the feeling this season was the means to an end for him. He'll ride his Harley to Montana, enjoy a brandy snifter with Jeannie Buss, who will either be empowered by the Lakers (and by the Lakers I mean Kobe Bryant) to convince him to stay for one more season or let him retire so Byron Scott can take over. I can't help but picture Jeannie as the femme fatale in a spy movie in which you don't know what side she's on until the very end.
FADE IN:
Phil Jackson and Jeannie Buss are enjoying cocktails on a white bear rug in front of a roaring fire while famous Chick Hearn calls play softly in the background. Suddenly, Phil Jackson starts to gag.
Phil: Jeannie ... you've ... poisoned ... my ... snifter!
Jeannie: The poison is slow acting. Kobe wants you back. If you agree to exercise your option for next season in the next two minutes I'll give you the antidote.
Or maybe she could just channel Darryl Hannah in an eye patch by bringing in a black mamba to threaten him with (and by that I mean the deadly snake, not the four-time NBA champion, though I guess either would work).
Are the Lakers a great team or just the best of the flawed squads we watched this season? The latter. The NBA this season was like "The Departed," which won the Oscar for best picture in 2007. Not Scorcese's best, kind of a rehash of some of his mafia versus the police films of the past. It was a good movie, but certainly we've seen better from him. That's what the NBA was in 2008-09. A rehash of 2007-08. Possibly it was due to the economic downturn, but teams weren't aggressive in the offseason and refrained from spending a lot of money to improve and become title contenders. So we got a rehash of the previous season. Each team came into the postseason with the same cast of characters as the previous campaign. So we saw some good teams in the playoffs the last month or so, but we've certainly seen better. Los Angeles squeaked by a number of talented, but flawed teams.
So with every team being virtually what it was before, the Lakers proved themselves to be the best (I would have loved to see what a healthy KG would have meant to this equation). And with teams likely to stay the course and not spend freely until we come out of economic hardship, it's tough to see anyone beat the Lakers in the next couple of years. When all you need are supporting parts, they're easily obtained and replaced.
Can I compare Kobe to MJ now? Yes.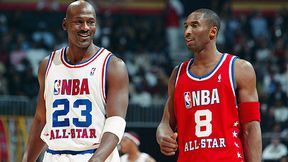 Jamie Squire/Getty ImagesIt's officially okay to start comparing Kobe to Michael.
Really? You said yes? I was just kind of throwing that out there. Why? Jordan won his first when he was 29. Kobe is 30 and has four -- three as a "1A" player, and now his first as the "1." Kobe's also been to two other finals as well. So now we can start the conversation, whereas we couldn't before. It just wasn't right. If Kobe wins three more, that gives him seven overall -- including four as a "1." I know Jordan's six-for-six is tough to beat, but what's more impressive -- that, or winning seven and going to nine or 10 Finals overall? Kobe shouldn't be penalized for going and losing. After all, it took MJ a long time just to get to his first. Kobe will never surpass MJ in the icon department, but for on-the-court accomplishments? He can do it. And now that he's led the Lakers solely for the first time? It's a conversation.
What is the moment I should remember from the Finals? Dwight Howard missing his two free throws at the end of Game 4. He makes just one, and it's a different series. I wonder if he'll ever realize how close his team was in this moment and how it may never come close again. Paging Dan Marino.
Who will I miss the most now that the Finals are over? Stan Van Gundy. No one is as negatively entertaining as this guy. He could have won the NBA title and he would have found a way to complain about it afterward. "Sure, we won, but I didn't like the way we did it, and we'll go back to the drawing board to make it better for next season." Even when he throws his team under the bus like he did after its Game 4 failure at the end of regulation (not fouling Derek Fisher and allowing a huge gap for him to shoot his game-tying 3-pointer), he's fun. I'm going to miss his stumping for his daughter to be elected to her high school student body council (she lost), his being unafraid of Phil Jackson in a fight (I'd take Stan in three rounds -- Phil has the reach but he's got hip and back problems, allowing Stan to get in close and do tons of damage) and, of course, taking a swing at how bad the Bowl Championship Series is in the process. Stan, I look forward to your return in November.
Who cashes in the most from his Finals performance? Three players come to mind right away: Lamar Odom, Trevor Ariza and Hedo Turkoglu. Sure, Odom dominated in three of the five NBA Finals games, but teams will be wary of his inconsistent play and candy addiction. Or maybe he can be paid IN candy. "Lamar, a lifetime supply of Lemonheads in exchange for an eight-year deal." He made $14 million this season but he's been in the league a while now and he's as good as he's going to get. He still gets a big contract, but less than what he's been used to. Ariza is going to hit it big for a supporting player. His clutch play both offensively and defensively may have some teams thinking they've found the new Tayshaun Prince. I think somewhere in the neighborhood of five years, $30 million. Turkoglu is going to be one of the few guys this offseason to hit the jackpot. Proving he can hit big shots and take care of the ball on the point if he has to? He'll double the $6 million deal that's expiring. Just stop with the tongue wag.
If I watch "The Manchurian Candidate" and then move on to "Murder, She Wrote," will I think of Angela Lansbury differently than if I just watched the TV show? Oh, yes. Sweet good golly, yes I will.
Jason Smith is the host of "AllNight with Jason Smith" (weekdays 1 to 5 a.m. ET/10 p.m. to 2 a.m. PT). Get in touch with him at allnight@espnradio.com.
MOST SENT STORIES ON ESPN.COM