Commentary
ESPN Radio Extra Point
Genuine or not, Tiger Woods' apology was simply a performance
Updated:
February 19, 2010, 2:40 PM ET
By
Jeremy Schaap
| ESPNRadio.com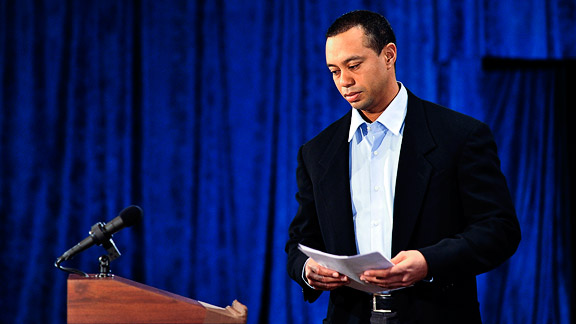 AP Photo/Lori MoffettTiger Woods stepped to the podium to say he was sorry, not to answer questions.
By now, millions of his fellow humans have heard the words Tiger Woods spoke Friday morning in Florida -- breaking his three-month silence on the topic of his serial infidelity. The recurring themes of his statement were contrition and embarrassment, even shame. But this was a performance, which it could not have been if questions had been allowed.
Maybe it was a genuine performance. Maybe not. The truth is none of us knows whether Woods is or isn't a sex addict. None of us knows why he behaved so recklessly. None of us knows if he is, as he said, sorry or remorseful. We don't know if his wife will forgive him. We don't know if he wants her forgiveness. We don't know if his game will suffer or improve.
That these and similar questions are now being asked -- everywhere, all the time -- tells you all you need to know about how Tiger Woods' world has changed. His car accident wasn't serious, but it might be impossible to ever clear the wreckage.
To listen to more ESPN Radio Extra Points, visit the archive page.
SportsCenter Reporter/Host, Classic Sports Reporters
Jeremy Schaap is an ESPN anchor and national correspondent, based in New York since 1998. He is a New York Times best-selling author ("Cinderella Man: James J. Braddock, Max Baer, and the Greatest Upset in Boxing History") and a contributor to "ABC World News Tonight" and "Nightline."
MOST SENT STORIES ON ESPN.COM