Commentary
ESPN Radio Extra Point
The odds are stacked against LaDainian Tomlinson
Updated:
February 24, 2010, 3:11 PM ET
By
Ryen Russillo
| ESPNRadio.com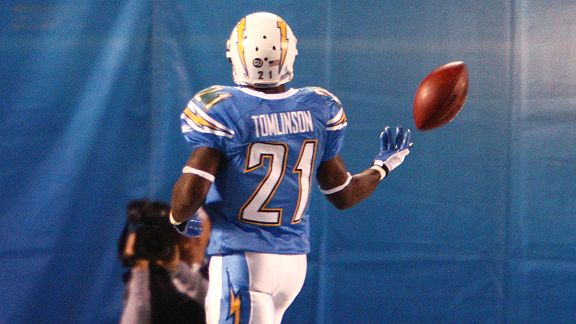 Icon Sports Media
LaDainian Tomlison has been released from the San Diego Chargers and if you're a Chargers fan, you knew it was coming but it doesn't mean you like it. Tomlinson was the the face of the franchise, by all accounts a great teammate and an even better person.
But as a football move, it was the only move for the Chargers franchise. Tomlinson's numbers have been in decline every season since the 1800 yard performance four years ago.
Here are the facts: at 31(which Tomlinson will be next season) he will try to go against NFL history by joining a new team and going over just 450 yards. Look at the names. Ahman Green - new team - just 269 yards. Eddie George had 432 yards with a new squad. Thurman Thomas had just 136 yards with the Dolphins. Emmitt Smith had 256 yards. How about Shaun Alexander with the Redskins? 24 yards on just 11 carries.
The football world didnt wake up one day and decide to say "lets start a rumor about running backs declining." This is the reality of the position in the NFL. Personally, I want to see Tomlinson have a great year with his new team, but we shouldn't expect it.
To listen to more ESPN Radio Extra Points, visit the archive page.
MOST SENT STORIES ON ESPN.COM