Commentary
ESPN Radio Extra Point
No surprise Tiger Woods is returning at the Masters
Updated:
March 17, 2010, 2:12 PM ET
By
Tim Keown
| ESPNRadio.com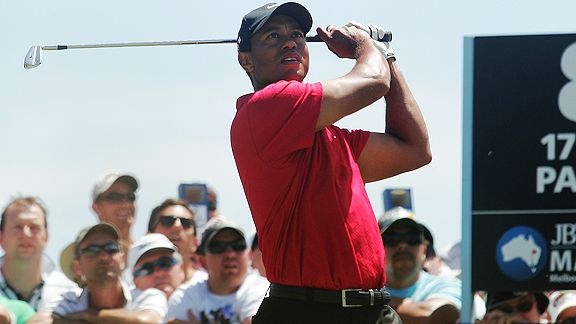 Mark Dadswell/Getty Images
Tiger Woods will return for the Masters at Augusta -- as if there was ever any question.
This is big news and non-news at the same time -- big news because Tiger is returning, non-news because everybody knew all along there was no way he would miss the Masters.
Remember back when he said he might not play all year? It sounded good at the time, all heartfelt and sincere, but nobody believed it.
Augusta National gives Tiger everything a man could want in a return from self-imposed exile. Playing the Masters as Tiger Woods is public exile -- nobody or no thing will be able to touch him in the week he plays there.
This is the place that forced out Gary McCord for saying the greens were bikini-waxed. You think they're going to let the National Enquirer get anywhere near the place? Bill Moyers will be lucky to get in.
And Augusta provides an added bonus for Tiger: Its attitude toward women isn't any more evolved than his, or at least any more than his was.
To listen to more ESPN Radio Extra Points, visit the archive page.
MOST SENT STORIES ON ESPN.COM