Commentary
ESPN Radio Extra Point
The Donovan McNabb era may be coming to an end in Philadelphia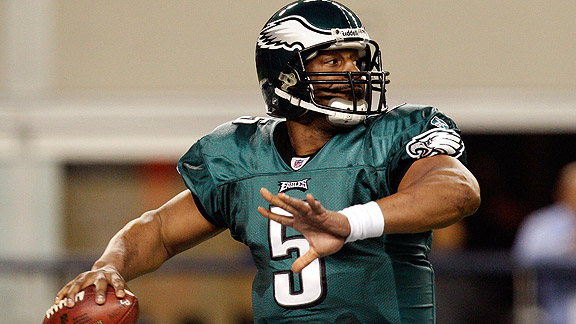 Ronald Martinez/Getty Images
Earlier this year, Donovan McNabb, speaking from the Pro Bowl, said he wants to play in Philadelphia. Adding he doesn't believe in finishing his career somewhere else, he said, "I believe in finishing what I've started."
But what if the team thinks he's finished? With them, anyway. That was the biggest piece of personnel news to come from the NFL owners meetings with Eagles coach Andy Reid admitting that the Eagles are entertaining all offers for their three quarterbacks including McNabb.
McNabb is coming off one of his best seasons. He had the third-highest passer rating of his career.
But he has one year left on his contract. Kevin Kolb is the future. Michael Vick isn't going to get the team much in exchange.
Can the Eagles honestly get rid of both Brian Westbrook and Donovan McNabb in the same offseason? McNabb has said he believes the Eagles are just a few players away from a title.
Did he ever believe he'd be traded to get them? Me neither.
To listen to more ESPN Radio Extra Points, visit the archive page.
SportsCenter anchor
Chris McKendry is the co-anchor for 12pm to 3pm ET SportsCenter. McKendry has also served as an anchor on ESPNEWS, Weekend Morning SportsCenter, and Sunday Sportsweekly. Prior to joining ESPN, McKendry was the first woman to work as a TV sports news anchor in the Washington D.C. market. In June 1996, she received a regional Sports Emmy in the Best Sports Segment Category for "NFL 101."
MOST SENT STORIES ON ESPN.COM