Commentary
ESPN Radio Extra Point
Joe Mauer re-signing with the Twins is good news for baseball
Updated:
March 26, 2010, 2:22 PM ET
By
Jeremy Schaap
| ESPNRadio.com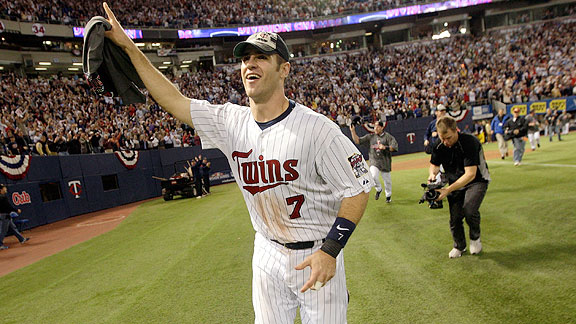 Jamie Squire/Getty Images
No one could argue that Joe Mauer made any kind of sacrifice by signing an eight-year contract with the Twins worth $184 million. Unborn generations of his descendants are now financially secure.
He gets to remain in the organization that nurtured him and gets to play in a new park that's situated only a few miles from his childhood home. But Mauer probably left about a hundred million dollars on the table.
If he'd become a free agent at the end of this season -- if he'd stayed healthy -- he might have commanded the biggest contract ever.
He might have signed with a team such as the Yankees or Red Sox, who might contend for championships indefinitely.
He could have moved to a city where the average January temperature is higher than his uniform number -- seven. But he didn't.
This is good news for baseball. This gives hope to fans whose teams don't have the resources of the tycoon franchises.
Usually, when someone in sports says, "It's not about the money," you know they're lying. Not this time.
To listen to more ESPN Radio Extra Points, visit the archive page.
SportsCenter Reporter/Host, Classic Sports Reporters
Jeremy Schaap is an ESPN anchor and national correspondent, based in New York since 1998. He is a New York Times best-selling author ("Cinderella Man: James J. Braddock, Max Baer, and the Greatest Upset in Boxing History") and a contributor to "ABC World News Tonight" and "Nightline."
MOST SENT STORIES ON ESPN.COM