Commentary
ESPN Radio Extra Point
If LeBron James is the King, Kevin Durant may well be the Prince
Updated:
April 1, 2010, 4:33 PM ET
By
Josh Elliott
| ESPNRadio.com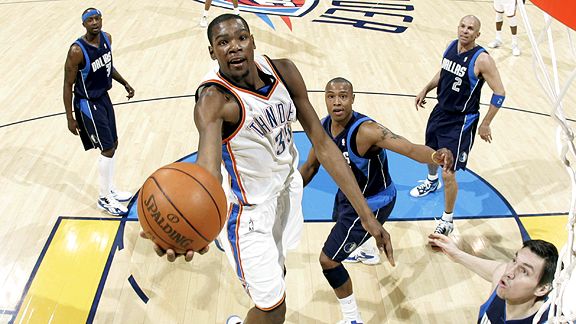 Layne Murdoch/NBAE/Getty Images
I did something today I've never done before on the air. I committed myself to a nickname, one that, judging by what we've seen from the kid this year, will certainly not be totally inappropriate in the coming years.
We asked at SportsCenter.com today who America thinks will have the higher scoring average over the next five years, Lebron James or Kevin Durant. And by the slimmest of margins, James finished second. The King, who can do anything he wants, theoretically outdone by ... the Prince.
ESPN Radio Extra Point
Josh Elliott compares Kevin Durant to LeBron James.
The proof plays out on a nightly basis ... as last night, when Durant went for 30-plus for an NBA-best 40th time on the year. James' skill set means he won't need the looks to fill it up as might Durant, who while flanked by Russell Westbrook and Jeff Green, still needs to find his shot, and many of them.
Thing is he makes them and many of them. The Prince, he who would be King ... as wondrous a young player as we've seen since, well ... you know ...
To listen to more ESPN Radio Extra Points, visit the archive page.
SPONSORED HEADLINES
ESPN TOP HEADLINES
MOST SENT STORIES ON ESPN.COM