Commentary
ESPN Radio Extra Point
Will professional soccer ever be more than it is now in the United States?
Updated:
April 5, 2010, 3:39 PM ET
By
Jeremy Schaap
| ESPNRadio.com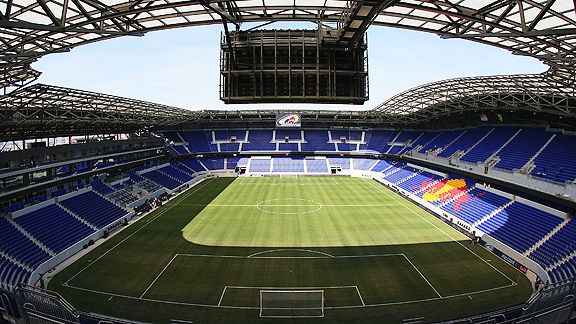 Mike Stobe/Getty Images for New York Red Bulls
Two weeks ago, the New York Red Bulls of Major League Soccer opened their new stadium in New Jersey, a $200 million all-soccer facility that is the most spectacular of its kind in this country. The question isn't only whether the Red Bulls can fill its twenty thousand seats, it's also whether pro soccer in the United States is ever going to be more than what it is now, which isn't much compared to the big team sports or to soccer in Europe and South America.
The David Beckham experiment might have been a financial success in terms of merchandise sales, but it did not put MLS on the map for the average sports fan. The problem is that MLS, for all its qualities, is not the English Premier League, Italy's Serie A or Spain's La Liga. For American players to develop -- and get paid -- they must go to Europe, leaving soccer here without its most marketable attractions, top local players. It's a conundrum that even the shiniest new stadiums can't unravel.
To listen to more ESPN Radio Extra Points, visit the archive page.
SportsCenter Reporter/Host, Classic Sports Reporters
Jeremy Schaap is an ESPN anchor and national correspondent, based in New York since 1998. He is a New York Times best-selling author ("Cinderella Man: James J. Braddock, Max Baer, and the Greatest Upset in Boxing History") and a contributor to "ABC World News Tonight" and "Nightline."
MOST SENT STORIES ON ESPN.COM