Commentary
ESPN Radio Extra Point
Instant replay's time has come in Major Leage Baseball
Updated:
April 27, 2010, 2:24 PM ET
By
Dan Davis
| ESPNRadio.com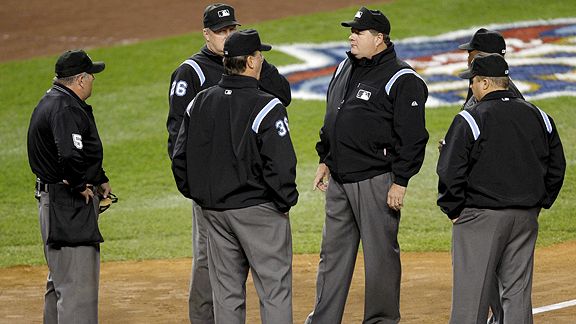 William Perlman/US PresswireWith incompetent umpiring more and more obvious for all to see, it's time for instant replay in MLB.
If you sit there in front of your high definition TV and blink in utter disbelief at the undeniable incompetence of major league umpires on a game by game basis, you are not alone.
We visited this topic last fall when there was a flurry of outrage following an especially ugly string of gaffes by the men in blue. We had a sense that Major League Baseball was going to take a serious look at the use of instant replay to save face, if nothing else. Instead, baseball gave the umpires a new contract and clammed up about their incompetence.
The problem is these days the cameras see everything. We used to doubt crummy calls. Now we know when they are bad. And they are very bad. Phantom force plays used to be sort of entertaining. Now, in slow motion, they look ridiculous.
What, you're afraid to take the time to use replay? What difference does it make? Boston and Toronto used over four hours to play nine innings Monday night. It would have taken only another 45 minutes or so to straighten out the absurd umpiring in that game.
To listen to more ESPN Radio Extra Points, visit the archive page.
MOST SENT STORIES ON ESPN.COM