Carl's Lock of the Century
Updated:
February 8, 2010, 9:48 AM ET
The Scott Van Pelt Show on ESPN Radio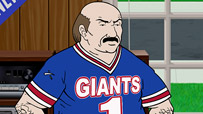 Adult SwimListen for Carl's pick every Friday!
Carl, from the Aqua Teen Hunger Force, delights fans with his Stone Cold Lock of the Century of the Week! See who Carl will pick (purely for entertainment purposes).

Also, check out Carl's selections from last season.
MOST SENT STORIES ON ESPN.COM